More than 2,000 foreign workers will be added to Korean shipyards this month thanks to expedited visa administrative procedures to help the local industry that has been grappling with chronic labor shortages, the government said Sunday.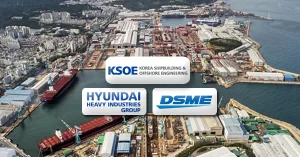 The Ministry of Trade, Industry and Energy announced that it had completed 2,257 employment recommendations for foreign skilled workers with E-7 visas last month after the procedures were revamped on Apr. 19 last year. During the same period, the Ministry of Justice completed 1,798 visa screenings. Visa procedures for low-skilled workers in the shipbuilding sector with E-9 visas was also expedited, with visa screenings for 1,047 workers completed last month.
As a result, a total of 2,000 foreign workers with E-7 and E-9 visa qualifications will be newly deployed to the shipbuilding industry this month. The figure is an approximation that includes 1,047 E-9 workers whose visa screenings were completed last month.
After the industry and justice ministers expanded their visa screening unit and simplified the procedures last month, the speed has increased dramatically, said an industry ministry official, adding that pending visa screening cases and new applications have been substantially resolved through these measures and the visa administrative procedures for foreign workers employed by domestic shipbuilders will take about one month.
As part of efforts to help ease workforce shortages at local shipyards, the government announced a measure last month to temporarily exempt foreign welders from submitting at least two years of work experience to qualify for jobs.
shippingposition
Kindly like us on Facebook/twitter