Spain's National Police have intercepted a cargo ship off the coast of the Canary Islands and found some 20 tons of hash stashed away in its cargo holds.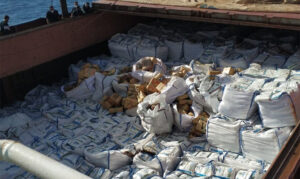 Eleven crew members of the MV Natalia were arrested in the raid, which was captured on video and posted online.
The National Police said the vessel was also dangerously close to sinking, as it is common for drug smugglers to use vessels in poor condition that are then scuttled or scrapped.
An investigation into the vessel was conducted in collaboration with the French authorities and has been underway since January after the Natalia, previously flagged in Togo and linked to a Lebanese company, changed registries several times, raising suspicions. Authorities then tracked the vessel as it sailed across the Mediterranean Sea, and eventually to within about 40 miles from the Canary Islands where the intercept was made on August 8th.
The National Police said all eleven crew members on board are of Syrian origin.
The Natalia, currently flying the flag of Palau, has been brought to the Port of Las Palmas where it will remain detained. A search there of the vessel turned up total of 638 bales of hashish totaling 19,876 kilos.
Kindly like us on Facebook