The Evergreen-chartered vessel, Ever Given which triggered the closure of the Suez Canal for several days back in March when it got stuck on sandbanks, has arrived in Rotterdam.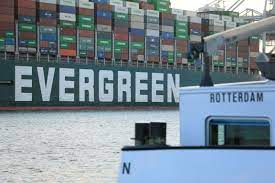 It berthed at Hutchison's ECT Delta terminal at Europe's biggest box port early this morning having been slow-steaming to its destination since leaving Egyptian waters.
In a statement, the port terminal operator said: Since today, (29 July), the Ever Given has been moored at the quayside of the ECT Delta terminal. In close cooperation, Evergreen Marine Corporation and Hutchison Ports ECT Rotterdam (ECT) have worked out a plan to handle the Ever Given in Rotterdam. All continental European containers will be unloaded in Rotterdam.
"To that end, the Ever Given will discharge all containers both with destination Rotterdam and with destination Hamburg. The Ever Given will then leave for Felixstowe to deliver the remaining containers in the UK. Containers for Hamburg will be transhipped. These containers will be loaded on the Ever Utile to continue their journey to Hamburg," the statement added.
The vessel was held under arrest for three months while its owner and insurer agreed a settlement with the Suez Canal Authority.
Kindly like us on Facebook