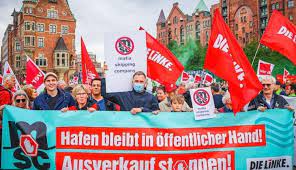 Employees of Hamburg port operator Hamburger Hafen und Logistik have taken to the streets of Hamburg to demonstrate their dissatisfaction with the planned sale of nearly half of the company to Mediterranean Shipping Company (MSC). It was the latest example of the growing opposition the City of Hamburg faces in completing the proposed $1.4 billion transaction.
MSC and Hamburg announced a week ago that they have reached terms to form what they are calling a strategic partnership in which MSC would acquire 49.99 percent of HHLA. The deal was justified as a strong response to the growing pressures and need for investments to meet the emerging challenges for the port. MSC committed to expanding its container volume through the port and relocating its German operations to the city.
Political leaders were quick to question the proposed sale. The mayor of Bremen told the German broadcaster NDR he had found out about the deal from the press. He sees it as a direct challenge as MSC currently operates from Bremen. The deal he says would create further competition instead of cooperation among Germany's ports.
The powerful trade union Ver.di organized Tuesday's protest citing their strong opposition to the sale of public infrastructure to the company based in Switzerland. They, too, are critical of how the deal was structured and announced saying that employee representatives were not involved in the discussions and also only found out about the agreement from the media reports.
"HHLA belongs to the citizens of the city," a representative of the union told NDR. Andre Kretschmar said city leaders and the Hamburg senate had lost the trust of the workforce. Verdi is also critical of MSC's operations and treatment of its employees.
The union reported that around 2,500 people participated in Tuesday's protest march, while NDR estimated the crowd at more than 1,000 people. The march began near HHLA's headquarters and worked its way through the streets toward MSC's offices in Hamburg. The union's banners read "Our port – not your casino," while many of the individual marchers were heard chanting "No sale of city property" in the loud protest with marchers also constantly blowing whistles.