The port can be a natural establishment or artificial construction, which provides a place for the loading and unloading of cargo. Ports can be for large seagoing ships and also for inland waterways such as rivers and lakes. The depth of the ports plays a vital role in allowing various types of ships to enter and dock at the port.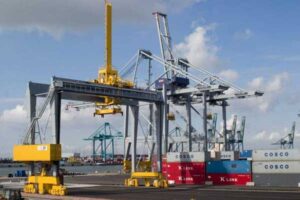 But nowadays along with its basic purpose, a port is equipped with certain other amenities and facilities. Different types of ports are equipped with different port facilities.
Some common port facilities provided by the most common sorts of ports throughout the world are as follows:
Special Warehouse: This is available on all the ports, for storing the shipment and for maintaining regular stock.
Port Reception: Reception has details of all the shipment scheduled and moreover it is a guide for the port facilities.
Other facilities: Some other essential facilities are also available at seaports namely hotels, restaurants, restrooms and eateries for the port visitors. Some of the ports are provided with medical facilities to the people present there, if there is no hospital in the vicinity it becomes obligatory for the port to provide with primary medical services.
Fishing facilities: Fishing ports allow its customer with fishing aids and amenities at the port.
Warm water facility: A greater revenue-generating warm water port provides warm water even in frosting winters.
Loading and Unloading Facility: It is the mandatory part of every port to allow loading and unloading of freight as well as people in a ship.
Infrastructure and Equipment's: A port has piers, basins, stacking or storage areas, warehouses to store various ferry equipment. Each port is equipped with essential equipment for e.g. hauling equipment's, draggers, cranes, trucks, loaders, etc.
Workshop: All the bigger and significant ports provide the facility of vessel workshop. It is the place where one can get spare parts and accessories of a vessel. Also, the vessels which have gone out of order are repaired and catered in the workshop.
Kindly like us on Facebook