As might be expected, the Master's workload isn't exactly light and his or her duties are wide ranging and great in number.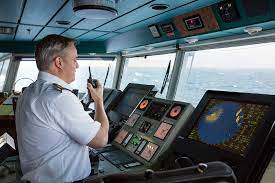 As well as ensuring the safety of the vessel, cargo and all of those onboard, they must also make sure operations are as risk free as possible by continuously monitoring and managing fire, hazard and damage limitation procedures.
A Master will also oversee any emergency operations.
In addition, a Master will plan the route of the ship and ensure it is correctly executed. He or she is responsible for making sure that repairs and maintenance are dealt with and that cargo is handled properly.
The Master will make sure that codes of conduct pertaining to shipping are followed and that maritime laws, and rules and regulations are all adhered to.
Master's jobs at sea come with a sizable helping of administrative work and he or she will need to see that records are kept correctly, while also having responsibility for the vessel's budgets and expenses.
If all of this seems like a daunting amount of work, it can be.
But in reality a Master will delegate some of their tasks and assign them to the ship's officers.
This means that the Master will assume a supervisor's role, but because they bear ultimate responsibility for everything that happens onboard, they need to be diligent and vigilant in ensuring that work is carried out to the standards they deem satisfactory.
Where do ship's Masters work?
Seafarer jobs are varied and so too are the vessels a crew may work on. You will find Masters working on everything from cruise ships to oil tankers, from heavy load carriers to tug boats, from bulk carriers to fishing boats, from ro-ro ships to super yachts, and from container ships to ferries.
And while a Master's duties may not vary too drastically on a bulk carrier, container ship or tanker, a Master who works on a pilot boat or tug boat has a different role in that they are responsible for helping larger ships by guiding them safely in and out of ports or harbors, or through tricky waterways.
Kindly like us on Facebook