The Nigerian Railway Corporation (NRC) has said that it recorded 693,224 passengers travelling on the Lagos/Ibadan Standard Gauge train between January 2021 and  December 2022.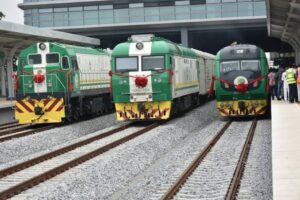 The Lagos District Manager, NRC, Mr Augustin Arisa, made the disclosure in an interview with the News Agency of Nigeria (NAN), in Lagos on Wednesday.
Arisa explained that the corporation recorded a total of 173,488 passengers in 2021 and 519,738 in 2022.
The official attributed the increase in number of passengers in 2022 to awareness and free rides organised by the Federal Government towards the end of 2021 till the first week in January 2022.
He said: "The Standard Gauge fare from Lagos to Ibadan (Mobolaji Johnson Ebute -Meta to Obafemi Awolowo Station in Moniya) cost N9,000 for executive class.
"N6,500 for Business class, N3,600 for standard class and it cost N3,000 for standard class for minors.
"From Lagos to Abeokuta (Mobolaji Johnson Ebute-Meta to Prof. Wole Soyinka Station in Abeokuta) the fare is N6,000 for executive class, N4,500 for business class , N3,000 for standard and minor N2,000.
"From Abeokuta to Ibadan the standard gauge fare is N3000 for executive, N2,000 for business class and N1,000 for standard class."
Arisa said that the corporation also recorded 524,093 passengers on the Mass Transit train from Lagos to Ijoko in Ogun in 2021 and 964,631 passengers in 2022.
The district manager said that the corporation runs four trips daily from Lagos to Ijoko — two in the morning between 6.30 a.m., and 7.00 a.m., while in the evening there are two trips at 5.30 p.m., and 6.00 p.m., respectively.
He said that the corporation would continue to create more awareness on its services, adding that various social media platforms have been adopted to create awareness for the public.
Arisa said further that the corporation had also put in place measures to tackle the vandalism of NRC properties by hoodlums.
He urged miscreant to steer clear of Federal Government properties which was constructed for the benefits of the citizens.
The district manager said the corporation would soon commence movements of goods on the standard gauge.
shippingposition
Kindly like us on Facebook/twitter