The House of Representatives' Committee on Finance has invited the Office of the Accountant-General of the Federation, the Nigeria Customs Service and the Budget Office of the Federation to appear on Monday next week and explain issues surrounding the collection and appropriation of the Nigerian Shippers' Council, especially a two per cent Ports Development Levy.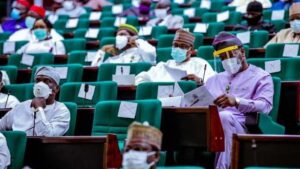 The committee issued the summons in Abuja on Tuesday at the ongoing public hearing on the 2022-2024 Medium-Term Expenditure Framework and Fiscal Strategy Paper.
The Executive Secretary of the NSC, Emmanuel Jime, had decried that the main source of the council's revenue, which is a quarterly two per cent of the total seven per cent Ports Development Levy amounting to N3.1bn was collected by the Customs and sent to the account-general's office.
Jime, a former member of the House, said, "there is also the extra challenge we have. The agency responsible for the collection of that particular two per cent that is being given under the current arrangement is Customs."
According to him, Customs after the collection, remits the revenue to the office of the accountant-general.
"It is the Customs that determines what amounts to percentage of the Port Levy. So, we're not really involved," he said.
Chairman of the committee, James Faleke, consequently directly the secretariat to invite those concerned for Monday.
"ES, we have to come back on Monday on this issue. Customs will be here. Budget Office will be here and the Accountant General Office to come – invite accountant-general's office on the issue of collection by Customs," Faleke said.
Jime also lamented that the NSC had been unable to access the one per cent charge on export and import since the council was established in 1978, noting that it is one of its statutory source of revenue.
He said, "There is this statutory source of revenue: one per cent charge on export and import. Since Shippers' Council was established, that particular source of revenue has never been accessed and I'm taking it up with the supervising ministry and it is also one area that I will ultimately be going to seek the support from the other side."
Kindly like us on Facebook