Prof. Adesoji Adesugba, the Managing Director, Nigeria Export Processing Zones Authority (NEPZA), has described Mrs Katherine Ekekezie, as a "brilliant administrator.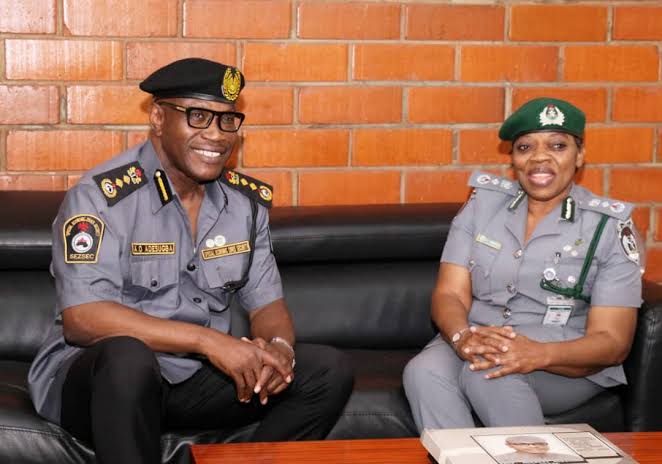 Ekekezie was the immediate past Deputy Comptroller-General of Customs in charge of Excise, Free Trade Zones and Industrial Incentive.
A statement issued on Friday in Abuja by Dr Martins Odeh, Head, Corporate Communications, NEPZA, quoted Adesugba as saying this while bidding the former customs officer farewell.
According to Adesugba, Ekekezie's interventions in the management of the free zones scheme helped positioned it for global competitiveness.
The NEPZA boss, who was a former customs officer used the occasion to reminisce on some of the official activities both did together while in service.
He said that Ekekezie had always showed uncommon brilliance on any assigned tasks.
"I have known DCG Katherine Ekekezie for decades during which time we shared knowledge on various customs' job specifications and their complexities.
"She was always learning and perfecting her skills on those duties much more than her peers.
"I am, therefore, not surprised about her uncommon patriotism, skills and rectitude in the manner she had managed her role in the free trade zones circle.
"Ekekezie, did bring in marvelous suggestions and inputs that shaped the Authority's relationship with the Nigeria Customs Service.
"We have also inputted most of her contributions into our strategy plan which continue to give the scheme global recognition'', Adesugba said.
He said that Ekekezie often times got caught between making the free trade zones to have greater meaning in the industrialisation process of the country and radically insisting on the collections of taxes and levies.
According to Adesugba, Ekekezie had always allowed the legal framework of both organisations to guide her decisions without soppiness.
He urged the service to ensure that the officer who would take over the position must be one with similar skills, knowledge and disposition toward the greater good of the scheme.
shippingposition
Kindly like us on Facebook/twitter