Contrary to allegations of violation of the Cabotage Act, investigation by Shipping Position Daily has revealed that, most of the foreign ships operating within the country's territorial waters and engaged by the Nigerian National Petroleum Corporation (NNPC) has Cabotage waivers.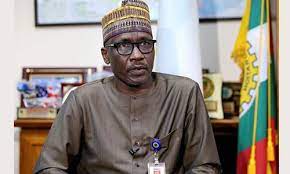 An impeccable source at the Nigeria Maritime Administration and Safety Agency (NIMASA) confirmed our correspondent that there is no way a foreign ship will be engaged by the NNPC without showing proof of waiver, even as the source added that NNPC will never engage a foreign ship without evidence of waiver in accordance with the provision of the Cabotage Act.
You will recall that Nigerian ship owners had petitioned the National Assembly to prevail on the NNPC to stop favouring foreign ships. They alleged that the ships being used by the NNPC were foreign flag with no waiver to partake in Cabotage operations.
In a letter dated April 22, 2021, addressed to the Speaker of the House of Representatives; Mr Femi Gbajabiamila and signed by President of Ship Owners Association of Nigeria (SOAN); Dr. Mkgeorge Okon Onyung, the ship owners had pleaded with the law makers to investigate alleged breaches of relevant local content laws.
In the letter, SOAN alleged that NNPC is breaching the Nigerian Local Content Act and the Cabotage Act.
The group also accused NNPC of abuse of "Customs regulations to gain unfair advantage in the award of contracts to foreign vessel owners for coastal shipping of petroleum products in the downstream sector of Nigerian maritime industry"
SOAN had lamented in the letter to the House of Representatives that, even though Nigerian ship owners were willing to accept Naira denominated payment, NNPC gave the contract to a foreign ship owner and is paying in Dollar. SOAN had particularly mentioned UNIBROS as one of the foreign shipping companies operating in the Nigeria waters without waiver.
Shipping Position Daily correspondents were told however, that UNINROS and some other foreign ships have been operating in the Nigeria waters for the past 15 years questioning how it is possible for the foreign ships to operate without waivers for the past 15 years.
Confirming what our sources unveiled, a former Director of Shipping Development at NIMASA; Capt. Waredi Eniousoh informed that foreign ships up till his time at NIMASA were granted waivers including foreign ships like UNIBROS. He however stated that he was not sure whether the waivers were renewed.
According to him, "We have vessels that were given waivers back at that time, I don't know their waiver conditions now. Back at that time companies like UNIBROS had waivers but you know waivers are not perpetual, they have expiry dates, whether those waivers were not renewed I don't know, because I have not been in the system, so I wouldn't know, but during our time they had values waivers" he said.
He added that: "NIMASA is not doing what they are supposed to do, the law is clear on waivers, go and read what the Cabotage Acts says, so if somebody does not do what he is supposed to do on waivers, is that not why the law is there. NNPC has not been giving us the jobs, is it not when you have a contract that you now take the money to buy a ship, maritime business is not a business where we begin to tell stories on the pages of newspapers' he said.
Also reacting to the alleged waiver granted to foreign ship owners a maritime lawyer; Barrister Osuala Emma Nwagbara stated that the focus for indigenous ship owners should not be whether or not the foreign ships have waiver or not, but if indigenous ship owners can acquire the right the size of ships, ships with the right standards and state of the art, and position themselves to do business. He noted that, once this is done, foreign ships will not have a place to do business in Nigeria.
He said: "The hullabaloo should not be about granting waivers to foreign ships. There is a big gap in the maritime transport infrastructure in Nigeria, if indigenous ship owners can acquire the right size of ships, ships with the right standards and state of the art, and position them to do business, the foreign ships will not have a place to do business in Nigeria. If we all have ships that are in the right size, in the right class, having the right insurance, they are in the state of the art and they apply to NNPC to move cargo within the Nigerian waters from one point to the other; of course there is no reason they cannot get that contract.
"This is because they will even charge a cheaper rate than foreign companies that own vessels. Don't forget that most of the foreign vessels that you see might not even be owned by those who use them.
"They are hired and even those who use them make their margin from using those vessels. So you can imagine if the ship was bought by a Nigerian or an indigenous operator who acquired that ship. If he is given subvention like the removal of import charges and he gets that vessel and he prefers to give cheaper service, why would anybody look for a foreign vessel?
"So the emphasis should not be on the presence of foreign vessels, but on the scarcity of indigenous vessels. The advocacy should be that more Nigerians should acquire ships and not that foreign vessels should not be on our waters, because without the foreign and Nigerian indigenous vessels there will be no vessels to service the maritime, oil and gas industry.
"So my take will be, because we don't have enough capital in this part of the world, Nigerians should come together and float shipping lines that will be able to buy vessels. Don't forget that, when you have two to five credible Nigerians it will be easier to get a loan from a foreign company to float a shipping company and buy a ship in Nigeria than one individual trying to raise a loan from a foreign company to buy a vessel. These credible persons can even get a ship building yard to build for them to pay overtime", he said.
Kindly like us on Facebook