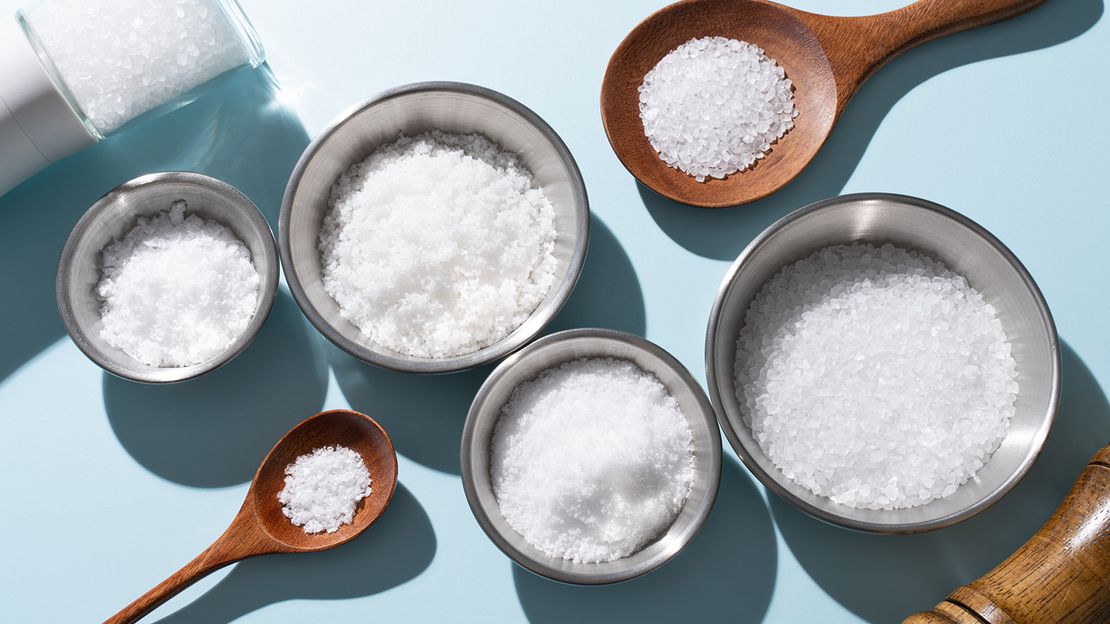 Life would be pretty bland without salt. Not only is this crystal one of the most universal ingredients in food, it also plays a key role in health — even if a lot of what you hear about salt is negative. Learn more about this mineral, its history, health benefits, and why so many people crave it, and you just may start enjoying salt more on every level.
Salt, or sodium chloride, is a mineral of great importance to human health. Most of the salt people consume comes from evaporated seawater or is mined from deep within the earth, according to the Harvard School of Public Health.
To some people, salt is nothing more than an ingredient in their favorite dishes. But salt doesn't only add flavor to foods. The body needs some salt, and it plays an important role in preserving food, since bacteria can't live in a high-salt environment, reports the Harvard School of Public Health. Plus, salting food such as meat and fish to preserve it draws water out, removing water as a source of nutrients for microbes and keeping it fresh for longer, according to the book Salt in the Earth.
Common Questions & Answers
· Does salt have any health benefits?
Not getting enough salt in your diet has been linked to low blood pressure, thyroid problems, and dehydration. Salt is also necessary to maintain the right fluid balance in the body.
· How much salt is too much?
According to the American Heart Association, you should keep sodium intake to less than 2,300 milligrams (mg) per day, which you can get from a little less than a tablespoon of table salt. And no more than 1,500 mg a day is ideal for most adults.
What is the difference between sea salt and table salt?
Sea salt comes from the ocean or saltwater lakes, and is harvested from evaporated water. Table salt is usually mined and contains more additives, such as iodine. Both kinds contain similar amounts of sodium.
· Are sodium and salt the same?
No. Salt is made up of sodium and chloride, so salt contains sodium. When you eat salt or foods that contain salt, you consume sodium.
· Why might you have a salty taste in your mouth?
Possible causes of a salty taste in the mouth include a dry mouth, dehydration, acid reflux, medication, postnasal drip, and a nutritional deficiency. Drink more water to see if it helps the taste go away. Contact your doctor if you have a change in taste.
· What Are the Nutrition Facts for Salt?
You might use the terms sodium and salt interchangeably, but there are differences between the two. Sodium is one of the elements that makes up salt. Salt is a natural mineral composed of two elements: sodium and chloride. Salt is about 40 percent sodium and 60 percent chloride, reports the Harvard School of Public Health.
· What Are the Different Types of Salt?
There are several different kinds of salt, each with slightly varying sodium levels and uses.
Iodized, or table salt is the most common type of salt, according to Mayo Clinic. It has smaller crystals, which give it a stronger flavor than other types of salt. Table salt may also contain anti-caking agents, such as calcium silicate, to prevent clumping.
Kosher salt comes in flakes or grains, and is named for its use in preparing kosher foods, according to the Harvard School of Public Health. Kosher salt usually has bigger crystals, which results in it having less sodium by volume than table salt.
Sea salt is made by evaporating seawater, leaving behind the salt. It may also contain trace minerals, according to Mayo Clinic. Its sodium levels are comparable to table salt.
Specialty salts include Himalayan pink salt, red salt, black salt, smoked salt, and others. These salts may be harvested from certain geographic areas or have other ingredients added to them.
Follow us on Facebook/ twitter