Containership leasing company Seaspan Corporation says it has secured forward fixed charter contracts for an additional 10 containerships with a major liner company, bringing its total to 58 ships that have been awarded forward fixed contracts since the start of 2021.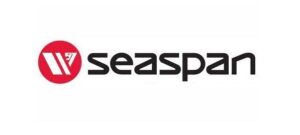 The 10 vessels, representing approximately 100,000 TEU in aggregate (10,000 TEU each), were previously scheduled to have four charters expire in 2022, four charters expire in 2023, and two charters expire in 2024. All 10 vessels have now been fixed through new five-year charter agreements, beginning at the end of their current charter periods.
Seaspan said the forward fixed charters are expected approximately $670 million of additional gross contracted cash flow.
Forward fixing is entering into new charter agreements with customers well in advance of the expiry of the current charter agreements. With the latest contracts, Seaspan has now forward fixed approximately 50% of its fleet.
"We are pleased to facilitate our customer's requirements by forward fixing another ten 10,000 TEU vessels, bringing the total forward fixed vessels to 58 in 2021," said Bing Chen, Chairman, President and CEO of Seaspan. "We continue to leverage our differentiated business model to provide creative customer solutions by forward fixing operating vessels and building new vessels. Seaspan now has no fleet roll-offs in 2021, and a limited number in 2022, 2023, and 2024, which insulates us from future market volatility while continuing to grow long-term quality cash flow through all market cycles."
Seaspan Corporation is a wholly owned subsidiary of NYSE-listed Atlas Corp. (NYSE: ATCO).
Seaspan's operating fleet currently consists of 131 vessels representing 1,120,200 TEU. It also has 55 vessels under construction which will increase its total capacity to 1,854,200 TEU on a fully delivered basis.
Kindly like us on Facebook