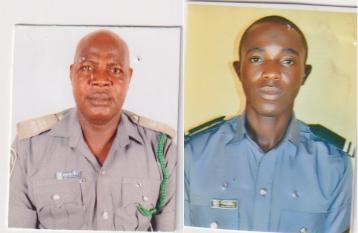 The Senate Ad-hoc Committee on Customs and Excise has expressed sympathy with the officers and men of the Nigeria Customs Service over injuries and deaths inflicted on them over the years by smugglers in the cause of carrying out their statutory responsibilities.
The Senate Ad-hoc Committee, led by the Chairman, Senator Francis Ade Fadahunsi on investigations following petitions before the Senate on the alleged rift between Customs operatives and residents of border communities, said this when it visited the Federal Operations Unit.
The Committee urged Officers to engage in constructive interactions and sensitisation with the communities to ensure peaceful coexistence.
The Chairman charged the officers to adhere strictly to the Rules of Engagement and Standard of Operating Procedure (SOP), as well as caution on using weapons.
"With what is happening, we will go and tell the leadership your plight, your fight, and the way forward", he added.
While giving his report, the Ag. Comptroller of the unit DC Hussein Ejibunu noted that three officers of the unit were killed in 2021 by smugglers, and 11 officers were injured.
According to him, officers under his supervision have always been less forceful in carrying out their Anti-smuggling tasks.
"Officers under my supervision always use minimal force during seizure operations to avoid casualties", he said.
"Since I got posted to this unit, there has been zero case of accidental discharge and right now, the group of officers we have, we are putting them through the rudiments of arms handling", Ejibunu noted.
On sensitisation of the border community, DC Ejibunu said, "Upon my coming in 2021, I visited all the traditional rulers, I visited all the border communities, I embarked on sensitisation, we recruited some youths that give us Intel, and occasionally, we reward them within our confines".
"We have also employed the service of some Media Houses for programmes that help to enlighten residents of border communities that we are not their enemy.  So far, we have experienced significant success with our border community relations," Ejibunu added.
Recall that a team of Kebbi Area Command officers and men of the Nigeria Customs came under attack with heavy gunfire by suspected bandits on Thursday while on a stop-and-search operation along Bunza – Dakingari – Koko Road in Kebbi state.
In the melee that ensued, two personnel of the Command, Alhaji Kabiru Shehu, an Inspector of Customs and Abdullahi Muhammad, a Customs Assistant II, paid the supreme price. The officers have since been laid to rest according to Islamic rites.
Similarly, on Wednesday, personnel of the Federal Operations Unit Zone 'B' in Katsina state were attacked while on patrol duties to the Dankama area of the State.
"While carrying out their statutory duties of anti-smuggling, some hoodlums suspected to be smugglers launched a brutal attack on the Officers with dangerous weapons, thereby inflicting several injuries to Inspector of Customs (IC) Haruna A", a statement from Customs had disclosed.