The suspended managing director of the Nigerian Ports Authority (NPA); Hadiza Bala-Usman has faulted allegations made against her by a former board member of the agency Binta Garba.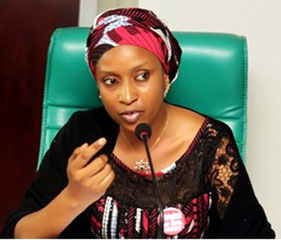 She described as spurious and an after-thought, the allegations that the financial statements of the NPA while she was a board member were inaccurate.
The ex-Senator had in a statement she issued on Sunday, alleged that Hadiza Bala-Usman orchestrated her removal from the board of the NPA, owing to her stand on the agencies financial statement.
"I noted discrepancies, I raised observations. I asked questions but I was completely ignored and disregarded. Answers were never provided until my removal was plotted", she had said.
But, in her response to Senator Garba's allegations, the suspended NPA boss, also in a statement obtained by our correspondent on Monday, pointed out that, apart from the fact that Garba "said nothing substantial", her allegations were spurious and unproven.
The suspended NPA MD added that the ex-Senator "also gave herself away as coming to the board of the Nigerian Ports Authority(NPA) to lend herself to the agency of destabilisation, rather than contribute to its development". She added that Binta Garba's "allegations of resistant to inquiries on the finances of the NPA are false".
She said since appointment in 2016, she had made the NPA to openly exhibit its readiness to be held to public scrutiny by taking some steps.
Hadiza said such steps included: "Signing of a Memorandum of Understanding with BUdgit Open Budget System Platform and Implementation of a Public Data Dissemination programme;
"Publishing the tariff regime of the Authority on the website for the whole world to see in line with the vision of transparency and accountability;
"Conducting the statutory Audit of the backlog of Authority's financial statements for 2013-2016 and presenting same for approval and submission to the appropriate quarters and engaging international renowned auditing firms for the audit of NPA's financial statements up until 2019 with full compliance to all Nigerian laws and the International Financial Reporting Standards"
She also affirmed that, "the 2020 financial statement is currently being audited".