President, Shippers Association of Lagos (SAL), Rev. Jonathan Nicole, has called for total re-organisation of Nigeria's seaports as the way forward in tackling challenges to their operations.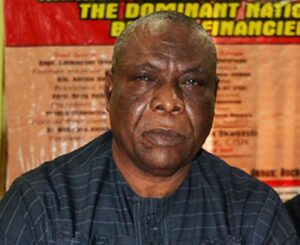 Nicole made the call in an interview on Friday in Lagos.
He reacted to President Muhammadu Buhari's broadcast to celebrate Nigeria's 61st independent anniversary on Friday.
Buhari had said that the seaports still remained problematic, adding that the effects of government's interventions to reduce inefficiencies in the ports had been slower than expected.
He hoped that the implementation of electronic call-ups system, as well as the conversion of the Lillypond container terminal to a vehicle transit area, would enhance cargo evacuation.
According to Nicole, concession of the ports is not too good for country.
He said that such an arrangement made ownership of the ports to be in the hands of the concessionaires.
"For efficiency, the Nigeria Customs Service, the port economic regulator, the Nigerian Shippers' Council and the Nigerian Ports Authority (NPA) should be allowed to handle their jobs.
"But since the country is practicing concession regime, it means that companies such as AP Moller are owners of the ports for now," he said.
Nicole said that such an arrangement gave room for problems in the ports.
On the e-call up system, he said that the platform was not effective.
According to him, truck drivers and shippers were at the receiving end in the arrangement.
"Truck owners are still complaining of payments made to NPA to access the ports; this should not be so.
"Under normal circumstances, when you hire a truck, you allow the truck to get to wherever it is hired with a gate pass, and that pass is called the Terminal Delivery Order.
"Unfortunately, some government agencies will be at the gate collecting money and the effect trickles down to the buyer of the goods, making the goods expensive.
"We expect the government to look into this very critically and allow terminal operators to sit down with importers, NSC and shipping lines to find a way out.
"They should tell us how we will collect our cargoes without paying all these unnecessary fees," he said.
He said that problems at the ports had defied solutions.
"It means some government officials are neckdeep in the ports and there is no control of people's activities in the ports.
"If some government officials are not involved in this whole thing, our people will be scared to do business with impunity," he said.
Kindly like us on Facebook