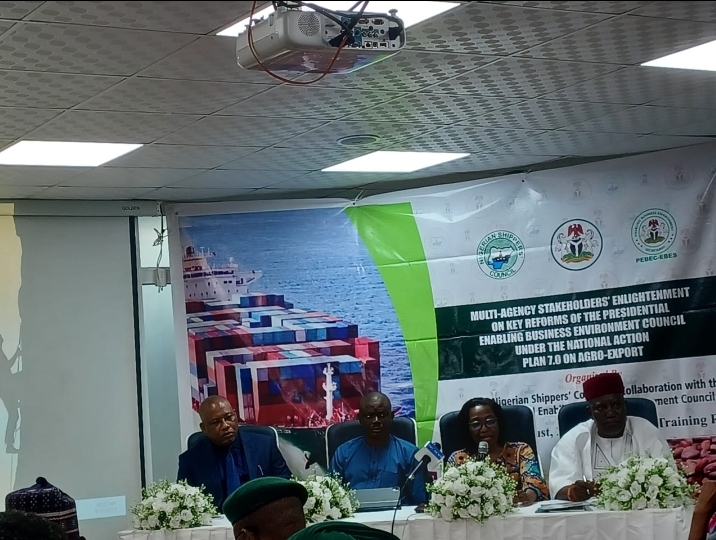 Following the enormous challenges confronting the development of agro-export in the country, the Nigeria Shippers' Council (NSC) and the Presidential Enabling Business Environment Council (PEBEC) have sensitized multi-agency stakeholders about key reforms on ease of doing agro-export business in Nigeria.
This is even as industry stakeholders have identified bottlenecks inhibiting agro-export trade in Nigeria, while providing practical and innovative solutions to these challenges through PEBEC reforms.
Speaking during his welcome address at a Multi-Agency Stakeholders' Enlightenment Programme of PEBEC under the National Action Plan (NAP 7.0) on Agro-export in Lagos on Tuesday, Executive Secretary of NSC, Mr Emmanuel Jime noted that the two impediments to agro-export trade are access to finance and market for the product at the international market.
Jime who was represented by Director Regulatory Services, Mrs Efeoma Ezedinma said the problem starts from the farm through to the multiple processes involved at the ports. He decried the inefficiencies associated with Nigerian agro-export, adding that farm produce such as yam planted in Nigeria are exported by Ghanaians.
The Executive Secretary stressed the need for Nigerian exporters to become committed to facilitate trade and invest in policies that will enable agro-export, both locally and internationally.
He noted that, "the export terminals and domestic warehouses are supposed to collaborate and if not performing the same function, they should complement each other to cut duplicate charges. This event will serve as a forum for knowledge exchange, constructive discussions provide practical solutions, identify bottlenecks and provide innovative solutions. There has to be deliberate policies that will aggressively drive exports in Nigeria"
"If it means that Shippers Council, PEBEC and the other agencies here to challenge impediments and set up teams that will address the issues and recommendations can be provided to be implemented."
In his keynote address, the PEBEC Project Manager, Mr Ayomikun Ojeniyi informed that the National Action Plan (NAP 7.0) which started in 2021 has five areas in which reforms are to be made.
According to him, these reforms include: Port and trade facilitation reforms, automation reforms, regulatory reforms, legislative and judicial reforms and executive program zero
Ojeniyi noted that the port and trade reforms seek to improve payment and verification; enhance inspection to make it seamless, work with terminal operators and shipping lines and the harmonization of access and documentation.
"The new reforms under payment verification include; limiting the NXP process flow to essential government agencies only, integration between Central Bank of Nigeria and Customs and the launching of the portal to reduce procedures for NXP confirmation.
"Inspection reforms seek to streamline current physical examination process for agro-exports, publish and enforce timeline, enforce 2017 EOI mandate for joint physical cargo inspection by agencies and the implementation of Designated Export Warehouse to end multiple cargo examination, encourage priority and free movement of designated export container laden truck to boost export volumes and ensure that all agencies are integrated end-to-end into the NICIS 2 Platform.
"Terminal Operators are to direct priority access lane for compliant agro-export containers and lift conditions requiring Nigerian exporters to load import containers as a pre-condition for accepting export boxes, activate sanctions regime to compel compliance by shipping lines and negotiating the cancellation of duties and demurrage on government-owned and private owned overtime containers at Ikorodu terminal".
The Chief Executive Officer, XPT Logistics International Limited, Barrister Kola Awe in his presentation said the complexities in the processes defeats the ease of doing agro-export business in Nigeria.
He enjoined all present to know their commodity, the documents, the specification and standards, use the correct packaging for each product and be conversant with the import procedure of the country they are exporting to.
Speaking earlier, the Deputy Director Trade Services, Nigerian Shippers' Council, Adaora Nwonu said the Multi-Agency Stakeholders' Enlightenment Program NAP 7.0 was created to examine the challenges that agro-exporters encounter in the course of doing business and to remove the bottlenecks.
Nwonu emphasized the need for fewer import and more exports to enhance the productive capacity for agro-export.