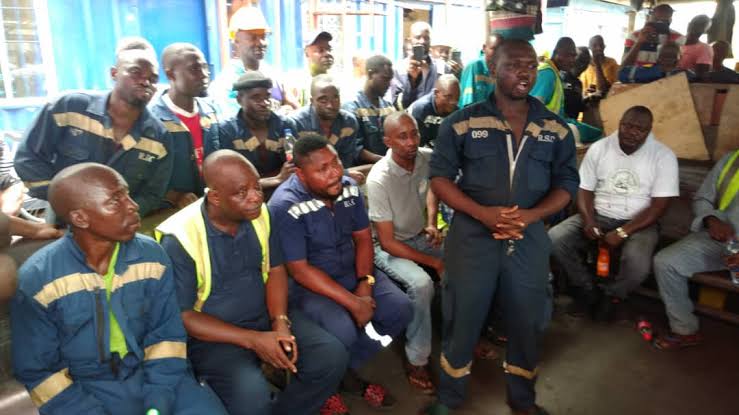 The Shipping Correspondents Association of Nigeria (SCAN) is set to honour the often-overlooked heroes of Nigerian port operations and the broader economy with the inaugural Dockworkers' Day celebration slated for today Thursday 7th September 2023.
Under the theme "Dockworkers: The Unsung Heroes of Nigerian Port Reforms," this event aims to shed light on the vital role of dockworkers, including crane operators, in a nation heavily reliant on imports.
The association, in a press statement stated that Nigeria's ports serve as crucial gateways to regional and global trade, contributing to economic growth and international collaboration, with an estimated N33.2 trillion seaborne trade.
The maritime journalists association said despite their pivotal role in handling cargo efficiently, dockworkers have not received the recognition they deserve, unlike other sectors that are celebrated internationally.
The President of SCAN, Eugene Agha, and Secretary Tony Nwachukwu jointly announced that the event is slated for Thursday at the Conference Hall of the Nigerian Shippers' Council (NSC) in Apapa, Lagos, starting at 10:00 am.
The event will delve into the challenges faced by port workers in their daily efforts to ensure a smooth economy through the seaports, as well as explore the future of their profession in an ever-evolving, technology-driven economy.
Princess (Dr.) Vicky Haastrup, Chairman of the Seaport Terminal Operators Association of Nigeria (STOAN) and Executive Vice-Chairman of ENL Consortium Ltd, is expected to preside over the event. The keynote speaker will be Barr. Hassan Bello, the Lead Consultant at Justicia Consults and former Executive Secretary of the Nigerian Shippers' Council.
The celebration will also include special honours for individuals who have made significant contributions to the welfare of dockworkers, including Hon. Emmanuel Jime, Executive Secretary of the Nigerian Shippers' Council; Princess (Dr.) Vicky Haastrup, STOAN Chairman; the Director-General of the Nigerian Maritime Administration and Safety Agency (NIMASA); and the Managing Director of the Nigerian Ports Authority (NPA), Muhammed Bello-Koko.
Additional honorees will include Chief Joshua Ogunleye, the pioneer president of the defunct Dockworkers' Union of Nigeria; Comrade Anthony Nted, immediate past President-General of the Maritime Workers Union of Nigeria (MWUN); Comrade Adewale Adeyanju, President-General of MWUN; and Comrade Ibrahim Tajudeen Ohize, President of the Dockworkers branch of MWUN, among others.
The forum is expected to draw hundreds of maritime stakeholders, including regulatory agencies such as NIMASA, NPA, and NSC, along with terminal operators, shippers, shipping companies, maritime workers, and others in the sector. Together, they will discuss the activities and challenges facing dockworkers 16 years after the port reforms of 2006.
The event will also highlight the contributions of dockworkers and employers to the port industry, showcasing the growth and development of Nigerian ports in alignment with international best practices. Furthermore, it will emphasize the need for capacity building in this fast-evolving, technology-focused industry, while also highlighting investment opportunities.