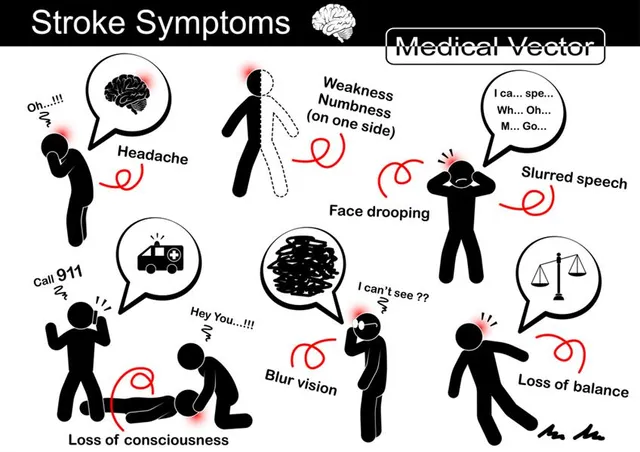 What is a stroke?
A stroke occurs when a blood vessel in the brain ruptures and bleeds, or when there's a blockage in the blood supply to the brain. The rupture or blockage prevents blood and oxygen from reaching the brain's tissues.
According to the Centers for Disease Control and Prevention (CDC), stroke is a leading cause of death in the United States. Every year, more than 795,000 U.S. people have a stroke.
Without oxygen, brain cells and tissue become damaged and begin to die within minutes.
There are three primary types of strokes:
·         Transient Ischemic Attack (TIA) involves a blood clot that typically reverses on its own.
·         Ischemic stroke involves a blockage caused by either a clot or plaque in the artery. The symptoms and complications of ischemic stroke can last longer than those of a TIA, or may become permanent.
·         Hemorrhagic stroke is caused by either a burst or leaking blood vessel that seeps into the brain.
Stroke symptoms
The loss of blood flow to the brain damages tissues within the brain. Symptoms of a stroke show up in the body parts controlled by the damaged areas of the brain.
The sooner a person having a stroke gets care, the better their outcome is likely to be. For this reason, it's helpful to know the signs of a stroke so you can act quickly. Stroke symptoms can include:
·         paralysis
·         numbness or weakness in the arm, face, and leg, especially on one side of the body
·         trouble speaking or understanding others
·         slurred speech
·         confusion, disorientation, or lack of responsiveness
·         sudden behavioral changes, especially increased agitation
·         vision problems, such as trouble seeing in one or both eyes with vision blackened or blurred, or double vision
·         trouble walking
·         loss of balance or coordination
·         dizziness
·         severe, sudden headache with an unknown cause
·         seizures
·         nausea or vomiting
A stroke requires immediate medical attention. Prompt treatment is key to preventing the following outcomes:
·         brain damage
·         long-term disability
·         death
It's better to be overly cautious when dealing with a stroke, so don't be afraid to get emergency medical help if you think you recognize the signs of a stroke.
What causes a stroke?
The cause of a stroke depends on the type of stroke. As mentioned earlier, strokes fall into three main categories:
·         transient ischemic attack (TIA)
·         ischemic stroke
·         hemorrhagic stroke
Risk factors for stroke
·         Diet
An unbalanced diet can increase the risk of stroke. This type of diet is high in:
salt
saturated fats
trans fats
cholesterol
·         Inactivity
Inactivity, or lack of exercise, can also raise the risk of stroke.
·         Heavy alcohol use
The risk of stroke also increases with heavy alcohol use.
If you drink, drink in moderation. This means no more than one drink a day for women, and no more than two drinks a day for men.
Heavy alcohol use can raise blood pressure levels. It can also raise triglyceride levels, which can cause atherosclerosis. This is plaque buildup in the arteries that narrows blood vessels.
·         Tobacco use
Using tobacco in any form also raises the risk of stroke, since it can damage the blood vessels and heart. Nicotine also raises blood pressure.
How to prevent a stroke
Lifestyle changes can't prevent all strokes. But many of these changes can make a radical difference when it comes to lowering your risk of stroke.
These changes include the following:
·         Quit smoking. If you smoke, quitting now will lower your risk of stroke. You can reach out to your doctor to create a quit plan.
·         Limit alcohol use. Heavy alcohol consumption can raise your blood pressure, which in turn raises the risk of stroke. If reducing your intake is difficult, reach out to your doctor for help.
·         Keep a moderate weight. Overweight and obesity increases the risk of stroke. To help manage your weight, eat a balanced diet and stay physically active more often than not. Both steps can also reduce blood pressure and cholesterol levels.
·         Get regular checkups. Talk with your doctor about how often to get a checkup for blood pressure, cholesterol, and any conditions you may have. They can also support you in making these lifestyle changes and offer guidance.