Oluyinka Onigbinde
Stakeholders in the nation's maritime industry have decried high level of infrastructure decay in the nation's ports, even as they lament that Nigeria has continued to lose revenue through cargo diversion to neigbouring countries.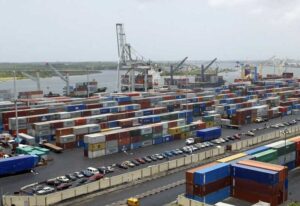 The port users accused the Federal Government of not paying close attention to the nation's ports despite generating huge revenue into federation account annually.
Speaking with our correspondent, an importer, Samson Okowa said it is disturbing that most of the infrastructure in the ports are left to decay without being repaired or fixed, lamenting that the quay wall at the Tin Can port are collapsing and they are yet to be fixed.
"In spite that the Federal Government is making a whole lot of revenue from these ports through its agencies such as Customs, Nigerian Ports Authority (NPA) and others, they are faced with numerous challenges, which need urgent attention," he said.
Also speaking with Shipping Position Daily, the Chief Executive Officer of Ocean and Cargo Limited, Aare Jide Taiwo, said it is an obvious fact that the seaport in Apapa is an old port with old infrastructure and not properly maintained.
According to him, the technology in place at the port can not be compared to that of the most western world despite the fact that some new equipment has been introduced to improve service delivery lately at the port.
"The road network is an integral part of port service operations, as we speak 50 per cent of the port service challenges we are experiencing is due to poor and bad roads around the port. The truckers can't drive in and exit as at when due because of the poor road network, which causes delays in delivery timing for cargo that has been cleared.
"The experience gets worse during the rainy season because of limited drainage systems to channel off the drops of water during rainfall into the appropriate channels. The NPA being the landlord of the seaport needs to do a lot to find lasting solutions to the infrastructural decay.
"The seaport is one of the revenue generating sources for the government, we need to do more as regards overhauling of the system, technology upgrades and replacement. Ultimately we have to do Infrastructural upgrades. The Federal Government needs to act fast so that we won't keep losing revenue that is meant to come into Nigeria, if importers keep taking their cargos to neighbouring countries because of the poor and delayed clearing process at the nation's Port," he added.
shippingposition
Kindly like us on Facebook/twitter