Maritime industry stakeholders and environmentalists have called on the Federal and state governments to develop a holistic framework to address the issue of the pollution at Nigerian seaports.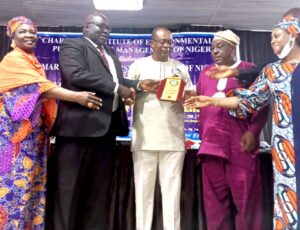 Environmentalists, academicians and maritime operators made the call during a conference organized by the Chartered Institute of Environmental and Public Health Management of Nigeria (CIEPHMN) in collaboration with Maritime Reporters' Association of Nigeria (MARAN) last week in Lagos.
Speaking at the event themed: "Marine Pollution Control and the Challenges of Seaport Environmental Health Management in the 21st Century," Prof. Bamidele Badejo of the Department of Geography, Faculty of Social Sciences, Olabisi Onabanjo University, Ogun State, noted the need for the government to have a clear plan to address marine pollution.
Prof. Badejo, who gave the lead paper, stated that government and policy makers should plan with the affected communities and other stakeholders while exploring solutions instead of planning for the solutions that are not people-centric.
He also stressed that all tiers of government should work towards having a comprehensive policy on marine environment and make financial provisions for research in this regard.
"The Nigerian maritime sector is in a dire need of an inventory and data on environmental issues and the effects. If we don't have crucial details of the marine environment, how do we ascertain if we are making progress in the bid to have a cleaner and healthier port environment and how do we measure the progress," Badejo said.
Earlier, the chairman of the occasion, Prince Olayiwola Shittu described environmental degradation as a global problem, but he lamented that in the nation's maritime industry environmental pollution has suffered paltry attention from policy makers and other stakeholders.
Shittu, who was represented by Mr. Pius Ujubonu, expressed delight that the CIEPHMN and MARAN collaboration offers hope that critical stakeholders in Nigeria are working to address environmental degradation and pollution in the nation.
He observed that upstream and midstream pollution eventually comes downstream and affects Nigerians in coastal areas as well as those in hinterlands.
Meanwhile, the Commissioner for Environment and Water Resources, Lagos State, Mr. Tunji Bello, stated that public engagement and enlightenment on marine pollution is necessary to prevent consequent health implications.
Bello, who was represented by Mrs. Bolanle Kasumu, also observed that most Nigerian companies don't treat their waste to attain minimum consequence on the environment before discharging it into the public drainage system.
"Irrespective of social status, too many people are unconcerned about the effects of their activities on the environment. Everyone must have passion for the marine environment in order to make the world a better place," she said.
In his opening remarks, the President of MARAN, Mr. Anya Njoku lamented that heavy industrial activities at Nigerian seaports have led to huge turnout of waste and harmful substances at terminals, adding that hazards of being exposed to these forms of chemical and air pollution are prime factors for serious diseases.
The event also featured the presentation of certificates and plaques to new chartered members of the Institute by its Director General/ Chief Executive, Prince (Dr.) George Ayoade.
Kindly like us on Facebook