At the end of the last weekday of trading on the Nigerian Stock Exchange (NGX), a total of 472,131,401 shares in 5,569 deals, corresponding to a market value of NGN 4,779,403,796.77, were traded. Compared with the previous NGX trading day (Thursday, April 27), today's data shows 80% decline in volume, 73% decline in turnover, and 20% decline in deals. The current market capitalization of the Nigerian Stock Exchange is NGN 28.5 trillion.
In the aggregate, 106 NGX listed equities participated in trading, ending with 24 gainers and 27 losers. Sovereign Trust Insurance led the gainers with 10% share price appreciation closing at NGN 0.33 per share, followed by Berger Paints (+9.86%), Cadbury Nigeria (+9.76%) and Computer Warehouse Group (+9.38%). On the losing side, Cutix came out last with an end-of-day price depreciation of 10% at NGN 2.25 per share, followed by Transcorp Nigeria (-9.94%), Champion Breweries (-9.71%) and Royal Exchange (-9.68%). Access Holdings recorded the highest volume of 82.8 million traded shares, followed by Transcorp Nigeria (75.9m), Fidelity Bank (54.7m) and United Bank for Africa (43.8m).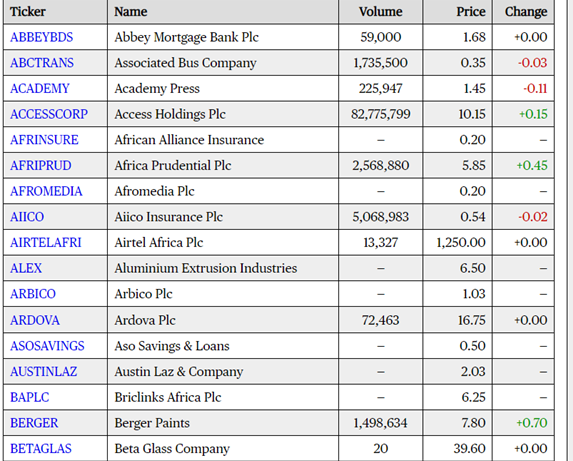 Regarding the performance of NGX market indices, the benchmark NGX All-Share Index (ASI) climbed 167.63 (0.32%) points to close at 52,403.51, representing a 1-week gain of 2.33%, a 4-week loss of 2.51%, but an overall year-to-date gain of 2.25%. Other remarkable indices that performed were the NGX Top 30 Index (+0.12%; +2.72% 1WK; +2.62% YTD), NGX Top 50 Index (+0.07%; +1.55% 1WK; +3.94% YTD), NGX Consumer Goods Index (+2.9%; +5.15% 1WK; +25% YTD), NGX Banking Index (+0.94%; +4.65% 1WK; +4.93% YTD), NGX Main Board Index (+0.73%; +3% 1WK; +0.92% YTD), and NGX Insurance Index (+0.59%; +4.13% 1WK; +5.75% YTD).
Follow us on Facebook/ twitter