Prof. Adekunle Ajayi, the Chief Medical Director (CMD), Federal Teaching Hospital,
Ido-Ekiti (FETHI) has advised Nigerians to take care of their heart while it is still functioning properly.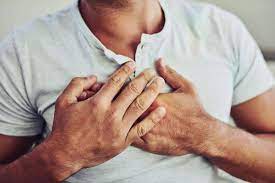 He gave the advice while delivering an inaugural lecture titled "Low Risk, Not risk": The Travails of a Lifetime Pump
Fighting Fate" on Wednesday at Ekiti State University (EKSU) in Ado-Ekiti.
The professor of Cardiology said there are some major risk factors that can easily damage the human heart and cause untimely death.
He stated that smoking of cigarettes, marijuana, high blood pressure, serum lipids, diabetes mellitus, obesity, unhealthy diets, physical
inactivity and metabolic syndrome are capable of causing cardiovascular disease.
Ajayi explained that smoking is associated with increased risk for coronary heart disease in adulthood, but smoking has higher risk of the disease in women than men.
He described hypertension as one of the strongest risk factors capable of causing cardiovascular diseases such as coronary disease,
left ventricular hypertrophy and valvular heart disease and stroke.
The professor said that for an individual to lower his or her cardiovascular risk, the individual must quit smoking immediately,
while individuals should choose a healthy food diet, among other measures.
He added that "low risk is never no risk, I want individuals and Nigerians to take responsibility for a healthy heart, while stakeholders in health
system must upgrade their supportive involvement to reduce morbidity and mortality arising from cardiovascular diseases.
"For Nigerians to lower their cardiovascular risk, smokers should quit smoking and for those who are yet to start, they must not start.
"I want to advise individuals to eat healthy foods with balanced diet always to curb any forms of heart diseases.
"Another way to keep heart healthy and free from disease is to be physically active; government should provide safe
sidewalks or initiate weekly keep fit exercise to promote physical activities.
"An individual must reduce Body Mass Index to less than 25kg, while blood pressure should be lower to less than 140/90mmHg a
and maintain blood cholesterol of less than 5mmol/l or 190mg/dl."
He said that if Nigerians could adhere strictly to the prescribed measures, it would reduce the mortality arising from cardiovascular diseases in
shippingposition
Kindly like us on Facebook/twitter