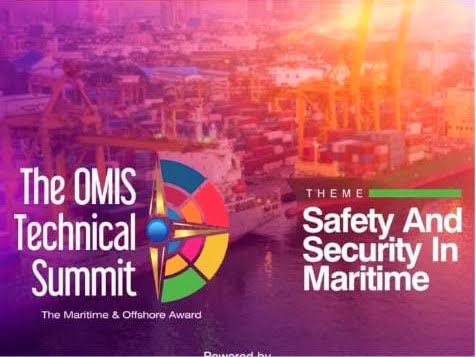 The Maritime and Offshore Award (The OMIS), an annual event honouring excellence in Nigeria's maritime industry, is set to elevate its impact this year with the introduction of a technical summit.
This addition coincides with the World Maritime Day (WMD) celebrated by the International Maritime Organization (IMO). Scheduled for September 23rd at the Lagos Oriental Hotel, the summit will convene at 12 noon and gather influential maritime experts, industry leaders, regulators, and stakeholders to collaboratively tackle the pressing challenges facing Nigeria's maritime sector while innovating new solutions.
The inaugural summit, powered by Prime Atlantic Safety Services and Hybrid Group, revolves around the theme "Safety and Security in Maritime." Mr. Femi Da-silva, the Chief Executive Officer of The OMIS in a statement made available to Shipping Position Daily expressed the significance of this addition, stating, "The technical summit is a pivotal addition to The OMIS Award this year. While acknowledging the commendable efforts of industry regulators, we believe that convening experts and stakeholders in the maritime industry will foster a collective approach towards tackling the challenges we face and drive the industry forward."
Dr. Alban Igwe, Member of the United Nations Advisory Committee on Trade and Transport, will moderate the summit. Distinguished panelists expected at the event include representatives from the Nigerian Ports Authority (NPA), Nigerian Navy, TotalEnergies, Nigerian Maritime Administration and Safety Agency (NIMASA), Nigeria Customs Service, and Federal Road Safety Corps (FRSC). Additionally, Dr. Ken Ukaoha, President of the National Association of Nigerian Traders; Prince Olayiwola Shittu, former President of the Association of Nigerian Licensed Customs Agents (ANLCA); and Engr. Greg Ogbeifun, Chairman of Starzs Investments, among others, will share their insights.
Given the pivotal role of the maritime industry in Nigeria's economy and the array of challenges it faces, including maritime security, technological advancements, sustainability, and regulatory compliance, the organizers anticipate that the technical summit will facilitate constructive discussions and innovative problem-solving strategies. Mr. Da-silva emphasized, "We anticipate that the technical summit will not only shed light on the challenges but also pave the way for transformative solutions. The collective expertise of the participants will be instrumental in driving positive change."
Moreover, the summit provides a unique networking opportunity for attendees to establish new partnerships and collaborations, fostering a more robust maritime community in Nigeria. Those interested in participating can register for the event through The OMIS website.