5. Port of Guangzhou, China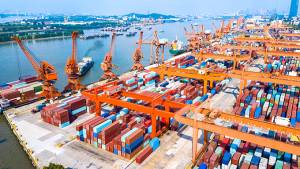 Guangzhou Port is one of the most important Chinese ports with maritime trade connections to more than 300 ports in over 100 countries. Owned by the Guangzhou Port Group Ltd, it handled more than 23.19 million TEUs in 2020, making it the world's fifth-busiest container facility.
It has been operational since ancient times and is strategically located at the intersection of three important rivers. The port serves as a crucial transportation hub for the region's industries located in places such as Guanxi, Sichuan, Hubei etc.
The port has 49 wharves and handles an array of agricultural and industrial goods such as oil, coal. fertilisers, chemicals, cereals, grains, metal ores, automobiles etc.
Nansha port, part of the main Guangzhou port area, handles more than 75% of the total cargo traffic at the port. Nansha port comprises more than 20 berths and over 60 specialised cranes. It can also accommodate the biggest cargo carriers.
6. Port of Busan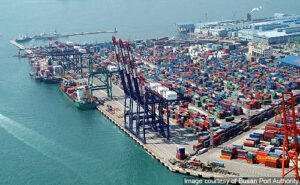 Owned by the government of South Korea, Busan port is situated at the tip of the Korean peninsula. The port is divided into two parts wherein international trade and commerce is carried out in the eastern port region and fisheries is the major activity at the western port area.
Busan port is South Korea's largest port which handled more than 21.82 million TEU in 2020.
It is a crucial maritime gateway for the nation linking it to the ports in the Pacific and major Asian ports. It handles containerised cargo including fertilisers, meat, metal, leather, oils, iron ore, wood, natural sand, sugars, petroleum and coal.
Its container handling touched a figure of over 19.9 million TEUs in the year 2019, making it a veritable challenger to its other Asian counterparts, in the years to come.
The Busan port comprises 4 port areas, a facility for handling passengers and 6 container handling facilities.
More than 30% of the country's maritime cargo passes through the Busan port. It also handles around 90% of the nation's containerised goods and more than 50% of its fisheries sector production. More than 120 cargo ships visit the port every 24 hours.
7. Port of Qingdao, China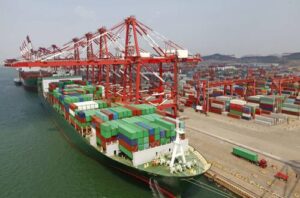 Qingdao Port is located in the Shandong Province in China. It became operational in the late 18th century and is an important port of Asia and a hub of international trade in the West Pacific region. In 2020, Qingdao port handled more than 22 million TEUs.
The port comprises four major ports namely the Qianwan, Dagang, Huangdao, and Dongjiakou port areas.
The Dagang port comprises 18 operational berths dedicated to cargoes like grains, steel products, aluminium oxide, and other conventional cargo.
The Qianwan port has 40 berths for handling containers, metals, coal, wood pulp etc. Huangdao port is an oil terminal capable of accommodating huge oil tankers at its 11 oil berths. It also handles crude oil, petroleum and its products. The Dongjiakou port includes 17 berths for dealing with solid and bulk cargoes.
The port offers world-class stevedoring facilities and can accommodate the biggest cargo carriers, iron ore vessels and oil tankers. The port is equipped with the latest port operating system and partially automated container terminals.
8. Port of Hong Kong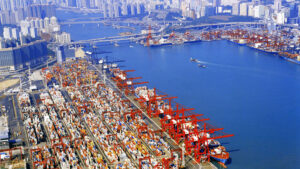 The Hong Kong port is situated near the Kowloon Peninsula and is a major maritime trading hub in Southeast Asia. It is one of the busiest container handling facilities globally that handled more than 20.07 million TEUs in 2020. About 89% of Hong Kong's total cargo throughput is handled at the Hong Kong Port.
Its inclusion as one of the busiest marine ports dates back to as early as 1987 when it was rated as the top-most busiest port. In the year 2019, it did a trade of >19.7 million TEUs.
The port includes 24 berths with a total length of 7694 m, spanning 279 hectares. The port's annual handling capacity is around 450,000 vessels. The port also has 9 container handling facilities with an annual handling capacity of more than 19 million TEUs. The port also includes several container yards and freight stations.
It provides excellent port facilities including shipyards for repair and maintenance for all kinds and sizes of vessels. Three floating dry docks are situated on the Ting Yi island. Smaller shipbuilding facilities at the port are engaged in the construction of specialised crafts such as patrol vessels and leisure boats for the international markets.
9. Port of Tianjin, China
Tianjin port is the major port facility and a crucial logistics and shipping centre of North China. Situated on the western coast of Bohai Bay, it also serves as Beijing's maritime gateway. It is the biggest artificial port facility in China and the ninth busiest port in the world. It handled more than 18.35 million TEUs in 2020 and has trade connections with over 600 ports across 190 nations with more than 120 container lines.
Tianjin port covers more than 120 km2, with a quay length of 34 km and comprises more than 170 cargo ship berths. It has two passenger terminals and 9 port areas out of which 3, namely Beijiang, Nanjiang and Dongjiang handle the majority of trade operations. It also has six major and two temporary anchorage areas.
It is also connected to 13 Chinese provinces and has direct linkages with the Northeast and Mid-Asian regions. Lying in the special economic zone, the port handles all kinds of containerised and non-containerised cargo such as metals, ores, oil, petroleum, vehicles, steel goods, grains, cereals, coal etc.
10. Port Klang, Malaysi
The biggest seaport of Malaysia and the tenth busiest in the world, Klang Port lies on the western coast of the Selangor region on the river Kelang. It is part of the metropolitan region of Kelang city and is a port of great economic significance for the country. The port handled more than 13.24 million TEUs in 2020.
It has been operational since 1901 and presently, it is close to the herbicide and rubber footwear industries.
The port comprises 53 operational berths, including 24 container handling facilities, 11 berths for heavy cargo, 9 berths for handling liquid bulk and 7 berths for dry cargo. It also contains 220 thousand sq m of storage space and four container terminals with an annual handling capacity of around 8.5 million TEUs.It has two passenger terminals, one serving cruise ships and the other handles ferries.
These ports have been constant as the world's busiest shipping ports.
*Concluded
Kindly like us on Facebook/twitter