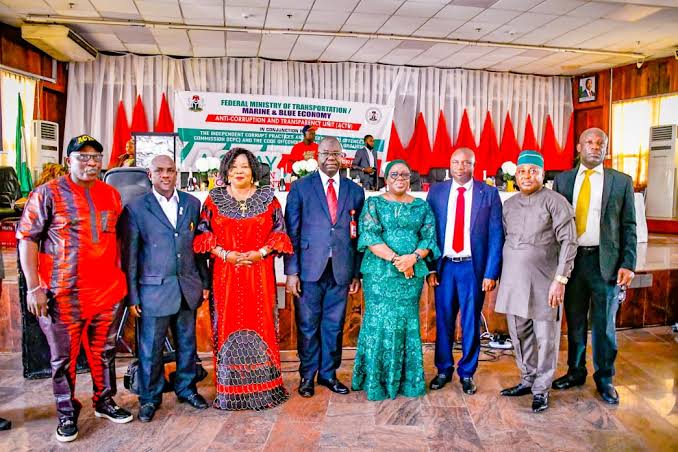 Mrs Magdalene Ajani, the Permanent Secretary of Ministry of Transportation, has said the ministry will sustain its zero tolerance to corruption among the staff.
Ajani stated this in her remarks at the opening of a 2-day sensitisation and enlightenment eorkshop organised by the Anti-Corruption and Transparency Unit (ACTU) in the ministry.
The theme of the event is: "Uprooting Corruption and Promoting Honest and Integrity. "
Ajani also said ensuring zero tolerance to corrupt practices would deepen  effectiveness and integrity of the staff.
She added that time had come to reposition the ministry towards better performance by uprooting corruption, promoting integrity and ethics.
"The workshop is something we have done consequently since 2021. It is a reminder workshop to avoid every unethical practice in service delivery.
"We want people to deliver service in a very ethical way, exhibiting professionalism, integrity, honesty and transparency.
"There are five values watch words- accountability, meritocracy, professionalism, loyalty and ethical practice.  These are the things that safeguard you in terms of service delivery, " she said.
Ajani, who was also the Permanent Secretary of the Ministry of Marine and Blue Economy, stated that efficient service delivery would also be looked into in her new posting..
According to her, people must be ethical in their practices in terms of professionalism and rendering efficient output to the populace.
She said lateness to work is an unethical practice against effective delivery of services.
She added that using office materials  for personal use is also unethical.
The permanent secretary said the ministry operates 100 per cent online to ensure work is done in the office and out of office.
According to her, the  ministry embarked on digitisation process  to strengthen service delivery.
". Digitising our documents and then working with an enterprise's content management has helped us to improve efficiency of service delivery. You can possibly  work anywhere in the world.
"Digitalisation makes work easier, better, efficient and makes the work done in or out of the office.
"The world has gone high-tech and hybrid work space boosts effectiveness,  " she said.
Speaking, Mrs Vivian Nwosu, Director Special Duties, Federal Ministry of Transport , appealed to the Federal Government to fulfil its promises of increasing staff salaries
According to her, the staff salaries ought to be  increased  for them  to cope with the present economic situation in the country.