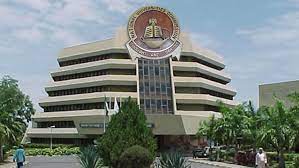 The Transportation University, Daura, has received official approval from the National Universities Commission (NUC) to start academic activities.
The Minister of Transportation, Sen. Said Alkali, made the disclosure in a statement in Lagos on Sunday.
Alkali said that the approval, granted on Oct. 18, was a significant development for the university and paved the way for its immediate launch.
He also said that the NUC approval letter, with reference number NUC/AP/T'6ONOL.II 02, marked a crucial milestone for the university as it authorised the beginning of academic programmes.
The minister said that university would offer 14 diverse programmes catering to the transportation industry and related fields.
The university's approved programmes include B.Eng. Civil Engineering, B.Eng. Electrical Electronics Engineering, B.Eng. Mechanical Engineering, B.Eng. Mechatronics Engineering, B.Eng. Highway Engineering, B.Eng. Railway Engineering, B.Sc. Aviation Management and B.Sc. Transport Management.
Others are; B.Sc. Logistics and Supply Chain Management, B.Sc. Maritime Safety and Environmental Administration, B.Sc. Railway Transport Management, B.Sc. Sea Port and Dry Port Management, B.Sc. Inland Waterways Safety and Environmental Administration, and B.Sc. Maritime Economics.
"The issuance of the approval letter by the NUC underscores the rigorous assessment and recognition of transportation university's commitment to academic excellence and industry relevance.
"It highlights the collaborative efforts between the Ministry of Transportation, led by me and the NUC in advancing Nigeria's educational landscape.
"Transportation University, Daura's approval from the NUC, as evidenced by the official letter, sets the stage for the university to become a centre of excellence in transportation studies," Alkali said.
According to him, as the university prepares to welcome its first batch of students, it is anticipated that the Transportation University will have a positive impact on the transportation sector in Nigeria.
Alkali noted that the diverse programmes would equip students with the necessary skills and knowledge to contribute to the development and advancement of the transportation industry in the country.