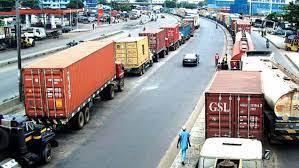 The electronic Truck Transit Park (TTP) introduced by the Nigerian Ports Authority in 2021, said it has successfully processed a staggering 1.5 million trucks within a span of two years.
This is according to Richard Emenim, Head of Corporate Development at TTP, who provided insight into the platform's rapid growth and future plans.
Emenim reported that TTP currently boasts a robust network of 16,012 registered trucks on its platform, stating that the significant number underscores the platform's efficiency and effectiveness in managing the movement of trucks, both port-bound and non-port-bound.
He explained that since its inception, TTP has facilitated the seamless transit of approximately 1,520,879 trucks, demonstrating its pivotal role in streamlining logistics and reducing congestion on transportation routes. This accomplishment not only reflects the platform's growth but also its positive impact on the trucking industry and broader supply chain.
Despite the impressive achievements of the Truck Transit Park in processing 1.5 million trucks within two years, there is a growing concern among stakeholders in the haulage and logistics sector. The primary issue revolves around the recent implementation of a mandatory N50 stamp duty on every N1,000 receipt issued to truck drivers by TTP, which is now a prerequisite for accessing the ports.
These stakeholders argue that this new stamp duty is an added financial burden on their operations, coming on top of existing fees and taxes. They feel that the value they receive in return for these payments is insufficient. They also highlight that such a policy could have adverse effects on trucking and its ability to attract foreign investment.
Recall that in a notice to all stakeholders, the management of TTP revealed that the Nigerian Ports Authority (NPA) directed them to implement the N50 stamp duty on receipts valued at N1,000 and above, starting from September 1, 2023.
Reacting to this, Mr. Rilwan Bello, Vice President of the National Association of Maritime Transport Operators (NAMTOP), expressed his frustration, stating that the focus of the TTP should be on creating a friendly and conducive business environment for truckers and attracting foreign direct investment.  He added that the recent introduction of a mandatory N50 stamp duty on every N1,000 receipt issued to truck drivers by TTP only adds to the financial burden faced by operators.
He added that the primary goal of TTP was to address the longstanding problem of traffic congestion, ensuring that truckers could operate efficiently and without unnecessary delays. However, as Mr. Bello pointed out, the reality on the ground paints a different picture.
He lamented that, traffic bottlenecks are still a common occurrence around Tin Can port and other key transit routes, and human interference in the process persists, despite promises to the contrary.
Furthermore, he stated that the exorbitant fees being charged truckers for using the  eto call-up services, which sometimes exceed N20,000, only add insult to the cost.
He alleged that, "the operators are only interested in generating revenue instead of providing a friendly and conducive business environment for trucking to thrive, as well as attracting Foreign Direct Investment."
Bello called on the government to halt the enforcement of stamp duty collection from truckers, emphasizing its negative impact on their business. He urged the government to create a more supportive environment for truckers, rather than imposing additional taxes.
Also speaking, Mr Adebayo Adejumo, a member of the Association of Maritime Truck Owners (AMATO), echoed the sentiment, stating that truckers were not receiving value for the fees they were paying compared to the services rendered.
Similarly, Mr Collins Dike, another trucker, declared that making payments for bookings before trucks could access the port was illegal and unacceptable. He argued that the business environment was already unfriendly for truckers due to heavy taxation by government agencies and non-state actors.