"At times, those vessels that you felt are owned by Nigerians are not owned by Nigerians"
Engr. Bob Yousou is the National President of Nigerian Merchant Navy Officers and Water Transport Senior Staff Association (NMNOWTSSA). In this Interview with Oluyinka Onigbinde, he speaks on the plight of seafarers in the country and sundry issues.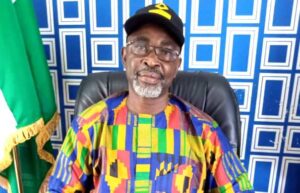 What's the position of the association regarding the unemployment rate among Nigerian seafarers?
Unemployment is a universal issue, the COVID 19 pandemic has affected the industry, when there is no much production; about 70% of the operation in the industry is based on oil and gas and when things are not working in the industry as expected, the production will be slow and when the production is slow, it will affect all other aspect in the maritime industry; including the seafarers, not only the seafarers, but the country at large. Unemployment is a general phenomenon that is affecting the country presently. When a ship doesn't have a contract, what do you expect the ship owner to do? When the oil companies cannot have more production, what do you expect the interns to do? I believe we would overcome, but right now unemployment is affecting the seafarers badly.
As a Seafarer, who have worked on both big and small vessels, how will you rate Nigeria seafarers in terms of competence?
Nigeria seafarers are very competent and we work in various nationalities; not just Nigerian seafarers but Nigerians are competent people, anywhere we go we make the best of ourselves. You cannot compare Indian seafarers and others to Nigerian seafarers, anywhere we go we put in all our best and try to be the best.
Nigeria seafarers are very competent, the only issue we are having, I may say maybe it is international politics. What I mean by International politics is when the society is afraid of you, they will do everything to bring you down and that is what I understand about what is happening. If they give us what exactly belongs to us as they know that we would overcome others, they will use one way or the other internationally to try to discredit Nigerians by degrading our certificate and the likes. If they have given Ghana, is Ghana bigger than us, is Ghana school better off than MAN Oron. I don't know what politicians in our country are doing, but most of our seafarers that went outside the country become the best. So Nigerian seafarers are 100% competent better than all the Asian seafarers and in Africa, there is no seafarer in Asian, Africa that you can use to compare Nigerian seafarers. We are the best, it is the international politics and also Nigerians because they always subject themselves to international pressure by limiting our certification and everything, doing things without thinking of our own interest, but think of what people would say, that is why we find ourselves where we are.
Why do you think Nigerian indigenous ship owners prefer to give their vessels to foreigners to handle?
I disagree with that, when the Cabotage is working effectively, what does the Cabotage means? The vessels must be owned by a Nigerians and there are regulators, NIMASA is there. I know that indigenous companies do not give their vessels to foreigners, Nigerians are there working effectively, sometime people don't know that most of the vessels may be hired to Nigerians to manage with flag registration; so based on that, we have to go into it properly to know if the vessel is Nigerian-owned. Any ship owned by a Nigerian must be manage by a Nigerian, most of the ships I know that are owned by Nigerians are managed by Nigerians, so there is no right-thinking Nigerian who will prefer foreigners, how can a ship owned by a Nigerian be given to foreigners to manage; because we have masters, experienced masters and others, even though you compare the salary, what they are giving to all those people is times two of what they are giving to us, why should we now go for foreigners if we are thinking normally. At times, those vessels that you felt are owned by Nigerians are not owned by Nigerians. Someone leases them to Nigerians to manage, so the lay man would think it is owned by a Nigerians, but if we go into it, it might not be an indigenous vessel, sometimes we might look things in an awkward side, but when you go in, you realize that most of the vessels are not owned by Nigerians.
How effective is the Collective Bargaining Agreement, how are the companies complying?
I will say we are trying our best as a union. Sometimes, I may not even blame the companies, what is CBA, agreement for who? For seafarer, is it not when you need a lawyer that the lawyer will come and stand for you? Sometimes, you would want to help the seafarer and they will refuse but tomorrow they blame the union and Nigeria. Nobody pays me here, but I am here, I have sacrificed my comfort, job and everything, I am a certified seafarer, I am here for the benefit of Nigeria seafarers, but we as a seafarer what are we doing for ourselves, we want Nigeria to be good but nobody wants to sacrifice, but very fast to blame those in government. If all of us put all hands on deck to work, things would get better, we would write to Nigerian companies as they have no say if the seafarers say they want it, and if the seafarers say they want their CBA, we would come in; which would be easier, but if they seafarers are sleeping, the company would use that as an excuse, these are the challenges we are facing. We are trying our best to sensitize, the NJIC is there; though the last one has expired and we are trying to go into a new one, but even though the NJIC is there, you as a seafarer does not accept and you know their kind of job; most seafarers don't even know what is happening as they are always at sea, somebody who stayed over six months away, if he comes down, what he will think of will be how to go and see is family. And we the union are trying our best by sensitizing them and to let them know that we the union are there for them and that is what we are trying to do, but I know that seafarers know that this association is for them and we would get it right, it is a gradual process.
Nigeria Seafarers are being paid less compared to foreign seafarers, is it because of the high unemployment rate among Nigerian seafarers?
You see, the way we understand things are different; there are so many areas to be looked into when we say seafarers are being paid less. It has about three dimensions, we have to categorise the country as we have undeveloped, developing and developed countries. Will you now tell me that an American seafarer and a Nigerian seafarer should receive the same salary? Or a UK captain and a Nigerian captain should receive the same salary? No, and sometime there is what we call international trade and local trade. When Nigerians travel out, for example, a Nigerian that goes to Saudi Arabia to work, what he will earn will differ from what his counterpart is earning in Nigeria. You cannot expect him and the man working in local operation in Nigeria to be the same. We are in the same category with Indian, Philippines and all the rest, but if a Filipino will come to Nigeria to work, they are of the same category with you, but you don't expect him to have the same salary with you because we have what we call overseas allowance, he is now an expatriate in Nigeria, so when all those things are added, it makes his salary higher than ours. If I go to Philippines and work, what I will receive will be higher than what Philippians will receive in his own country, so those are the area we should look into, and if an American is coming to work here, you know his country is more developed, standard of living is high; coupled with the overseas allowances, security and others would be paid too. I am not saying that our salary is high, but we must put all those things in consideration so there is now way we can say that someone coming to work with me in my country must have the same salary; even when I travel out of the country to work, no matter how small it is they give me what we call overseas allowance in addition to the salary. So it all depends on how you look at it.
What is your reaction to the rising rate of piracy on Nigerian waters?
The rising rate of piracy is sometime as a result of unemployment; a seafarer that was trained for years without a job, and sea is what he knows best, what do you expect him to do? Will they allow him to go and hang himself, or to die of hunger? The sea is business, that's what he knows, so unemployment for the seafarers also cause piracy. Under-development by the oil and gas company in the region also causes piracy, security lapses also cause piracy and there is no way we can totally eliminate piracy.
There are allegations that Nigeria ships are out-of-class do you agree?
I disagree, although I am not a ship owner, what do they mean by out of class? We have the best vessels, best phones and the likes; you can always get the best from Nigerians. So what is out of class? When something is out of class, you renew it, if you have an expired driving license, are you not going to renew it? So any company that really wants to go into the maritime business, if the vessel is out of class, what do you do? You renew it. Any serious-minded Nigerian who wants to continue with his business, will know when to go to dry dock, when to renew his profile, will know what to do by giving it to the right people to manage as to make things better for himself. So that Nigerian vessels are not out of class, that is not an excuse, any Nigerian ship owner that wants to buy vessels, must get a competent management team and to make sure that they put their vessels in class.
Do you think there is a need for Nigeria to re-contest the IMO Category C seat again?
Nigeria is supposed to hold that seat permanently, if we are serious-minded people and know what we are doing. Sorry to say, we politicize everything in Nigeria, we think of our interest beyond the country's interest, we are giant of Africa, what is it that we don't have? We have one of the best maritime institutions. If we say we want to be the best in Africa we can do it, we have all it takes but it is lack of good administration and management. We have competent hands, resources, we have everything it takes to retain that position because we are the giant of Africa, we have the intellectuals; go to Oron now to see what the Rector is doing, that is one of the best schools in Africa. The man has reformed that place, but tomorrow they may change him politically and bring another person and that person will be thinking of himself, everybody is thinking of himself, nobody is thinking of Nigeria.