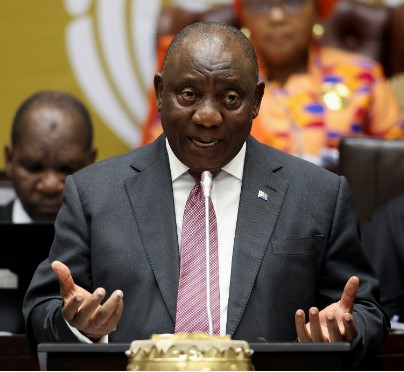 The United States envoy to South Africa said on Thursday he was confident that a Russian ship had picked up weapons in South Africa, in a possible breach of Pretoria's declared neutrality in the Ukraine conflict.
The rand ZAR=D3 and South Africa's 2030 government bond ZAR2030=extended losses after the U.S statement as currency traders said they were worried that South Africa could now face Western sanctions.
South African President Cyril Ramaphosa did not confirm or deny the shipment took place but said his government was looking into the matter, when an opposition leader asked him about the issue in parliament.
The U.S. ambassador to South Africa, Reuben Brigety, told local journalists in a briefing earlier on Thursday that Washington was confident a Russian vessel had uploaded weapons and ammunition from South Africa in December.
"Amongst the things we noted were the docking of the Russian cargo ship Lady R in Simon's Town between Dec. 6 and Dec. 8, 2022, which we are confident uploaded weapons, ammunitions … as it made its way back to Russia," Brigety said.
Senior U.S. officials had "profound concerns" Brigety added, in a recording of the briefing heard by Reuters. This "does not suggest to us the actions of a non-aligned country."
Washington has repeatedly warned countries against providing material support to Russia, cautioning that those who do may be denied access to the world's most important markets.
The U.S. State Department did not immediately respond to a request for comment. The U.S. embassy in South Africa and the U.S. Treasury Department declined to comment.
Brigety made the remarks to journalists following his return to Pretoria after accompanying a high-level South African delegation to the United States to address concerns about South Africa's relationship with Russia.
"The matter is being looked into and in time we will be able to speak about it," Ramaphosa told lawmakers in parliament.
Follow us on Facebook/ twitter