Gov. Babajide Sanwo-Olu of Lagos State on Thursday urged maritime stakeholders to cooperate with his administration for efficient maritime operation as well as safety and security on Lagos waterways.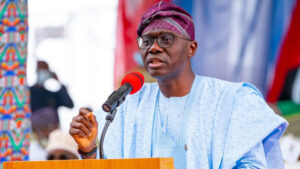 Sanwo-Olu made the call at the Lagos Marines Services and Waterways Security Summit tagged 'Ikorodu 2022'.
He said that the state government had embarked on a laudable investment in the maritime sector while also putting security measures in place to reduce security threats on Lagos waterways.
He said the state government had also deployed technology and innovations on safety and security of lives and properties on the waterways.
"We engaged people at areas where there is traffic and completely remove wrecks on our waterways, this have drastically reduced mishaps," he said.
According to him, government is ready to partner the Lagos Association of Maritime Contractors, Petro-Gas Servicing Operators and Water Transporters (LASMARINES) with objectives on safety and security on Lagos waterways.
Sanwo-Olu, represented by Mr Yemi Sopitan, Special Adviser on Maritime, urged residents using ferry service to always put on their life jacket for safety before entering the boat or ferry.
Also, Mr Taiwo Mogbojuri, President General of LASMARINES, said that Lagos had great potential to develop its water economy to a highly competitive level where fishery, tourism, water transportation among others, would be beneficial if harnessed.
Mogbojuri said that waterways had tremendous economic possibilities; especially in job creation, reduction on time spent on the road and also encouraged fishermen to rebrand their aquatic enterprise.
He said that residents convey themselves on ferries and boats to their various points of trade in the state, adding that exploring and developing water transportation had, no doubt, been beneficial.
He advised all stakeholders to join hands together to develop the mode of transportation in order to maximize its potentials and also work in synergy to combat insecurity on the waterways.
He also said that compliance to rules and regulation guiding the use of the waterways must be strictly adhered to by everyone.
''Yes, security is a major challenge but one thing I can also give this government as a credit is that, this government is concerned about the issue of insecurity.
"Security is not a particular person's business, it's all our business, and it is what every agency is committed to.
"So, it is a major concern, and the navy and the police and other security agencies has been quite supportive to make sure we have a safe operating environment," he said.
Earlier, Mr Ladi Balogun, General Manager, Lagos State Ferry Service, had said that large part of the state was made up of water adding that residents should make use of it as a multimodal transportation system.
He said that the state government had constructed the blue and red rail for seamless commercial flow through maritime and waterways to reduce the stress and hours spent on the road,
The LASMARINES inaugurated 19 officers as joint safety and shipping taskforce and 3 officers as Lagos maritime and shipping logistic consultative council.
Stakeholders present included representatives of the Police, Nigeria Port Authority, Nigeria Security and Civil Defence, Lagos State Emergency Management Authority and the National Inland Waterways.
Kindly like us on Facebook/twitter