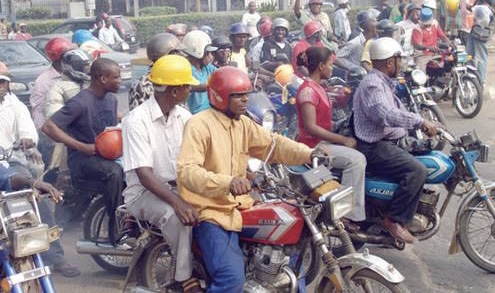 · Dare LASG, purchase more bikes despite clampdown
Despite several clampdown on their activities and seizures of their motorcycles, commercial riders popularly known as "okada" operating at the popular Mile 2- Tin Can-Apapa axis in Lagos have alleged that they pay between N150,000 and N200,000 to security agencies to secure the release of their motorcycles.
Notwithstanding the periodic seizures by officials of the Lagos State Task Force, the riders have however vowed not to stop plying the apparently lucrative Toyota- Mile 2-Apapa route.
To demonstrate their seriousness, they have even purchased more motorcycles and 'bailed' their seized bikes from the Task Force of the Lagos State government.
A survey carried out by our correspondent revealed that there is nothing less than 10,000 commercial motorcycles plying the Mile 2 Tin Can Road on a daily basis despite the ban imposed on their activities by the state government.
Recall that the ban became effective last year in August covering about 10 Local Government Areas and 15 Local Council Development Areas, including Kosofe, Oshodi-Isolo, Somolu, Mushin, Apapa, Ikeja, Lagos Island, Lagos Mainland, Surulere and Eti-Osa.
About a month ago, some commercial motorcyclists allegedly killed a policeman along the Apapa-Oshodi Expressway in the state. The Lagos State Police Command Public Relations Officer, Benjamin Hundeyin, confirmed that the incident happened around the Cele Bus Stop area of the expressway.
Hundeyin noted that two Police officers were attacked while enforcing the existing motorcycle ban in parts of the state. He added that a Police Inspector was killed while a Divisional Police Officer was also injured.
The Police spokesman also confirmed that the incident resulted in the arrest of two suspects and the impoundment of 41 motorcycles.
However, about three weeks ago, the Lagos State Task Force launched a total clampdown on commercial motorcycles on the Mile 2 Bridge. Our correspondent who witnessed the operation observed that over two trucks each loaded with about 500 motorcycles were intercepted.
In several visits to the Mile 2 Bridge, our correspondent observed that the Okada riders have returned in their large numbers. It was gathered that some of the Okada riders with the aid of Military or other Security personnel have gone to 'bail' their motorcycles from the Lagos State Task Force paying as high as N150,000 each.
However, those who could not get a military or other security personnel risk forfeiting their bikes and purchasing a new one.
In a chat with one of the riders last week, a rider who simply identified himself as Musa, told Shipping Position Daily that they have purchased new bikes to continue their commercial operations for survival.
Musa who spoke in Pidgin English noted that his motorcycle was amongst those that were seized by the Lagos State Task Force some weeks ago. According to him, some of his colleagues have gone to the Taskforce office with Military or any Uniformed personnel to bail out their motorcycles as high as N150,000.
Musa said since he could not find any Military personnel to accompany him, he was forced to buy a fairly used motorcycle at the rate of N220,000 in order to survive and make ends meet.
In his words; "My motorcycle was among those that were seized by the Alausa Police when they came to Mile 2 some weeks ago. I don't have any other work I am doing and I need to eat and feed my family. I bought the former motorcycle I was using at the rate of N300,000. Now that it has been seized, I had to buy a fairly-used one for N220,000 in order to continue my work.
"Some of my friends have collected their bikes already. You will have to go with either a Soldier or any 'force' person; if not they will arrest you and put you in jail. Those who collected their bikes said they paid between N150,000 and N140,000. You will also give the Soldier or Force man N20,000" Musa disclosed.
Another rider, named Sadeeq Dauda said one of his brothers was arrested along with his motorcycle during the recent clampdown. He said they have been asked to pay about N500,000 to bail him out of Police Custody.
Dauda who also spoke in Pidgin English told our correspondent that he was lucky to escape as he took to his heels when he sighted the men of the Lagos State Task Force. He also informed our correspondent that he has bought another fairly-used bike at the rate of N190,000 to continue his business.
"My friend collected his bike some days ago and he paid N150,000 to recover his bike. You cannot go there alone to collect your bike; if not they will arrest you. One of my brothers is currently in their custody and we have been asked to bring N500,000 to bail him out. I was lucky I was not arrested too. I had to leave my bike and take to my heels. They even came back here at Mile 2 on Tuesday (last week) and parked under the bridge. Some of our brothers who saw them informed us and we had to run for our dear lives. This Police wahala is too much in Lagos", Dauda lamented.
Another apparently frustrated Okada rider who identified himself as Amos told our correspondent that he has lost two of his bikes out of three to the Police. He said he bought each of the bikes at the rate of N350,000.
Amos noted that he has decided to take the one motorcycle left with him back to Adamawa his home state, as he is afraid of losing his only means of survival.
All efforts made to get the reaction of the Special Adviser to Lagos State Governor on Transportation, Mr Sola Giwa proved abortive. Several calls and texts sent to his telephone were not responded to as at press time.
Follow us on Facebook/ twitter