Insanity rules the waves
Body of the deceased Master of general cargo ship VANTAGE WAVE remains on board since his death on Apr 19, while the ship was en route from Paradip India to Guangzhou, China, with cargo of aluminium ingots. According to Human Rights at Sea, it was asked by Master's family and insurer Gard on behalf of ship owner and crew, to assist in attracting attention to this outrageous case of unlawfulness and inhumanity. Captain died from cardiac attack or with symptoms of cardiac attack, with no symptoms of covid, or so it is said. The ship was rejected body disembarkation by nearly all regional countries: Singapore, Malaysia, S. Korea, Taiwan, Vietnam, the Philippines and Japan, including of course, China. The ship arrived at Hong Kong outer anchorage in early May, and as of morning Jun 15, remains anchored. Understood Chinese authorities aren't allowing ship's water and food supply, either.
Dead bodies fear, demonstrated by Asian countries in this case and in case of Italian Master of ITAL LIBERA container ship, is absolutely irrational. Some things sometimes go beyond any human conception of society, civilization and morals.
MSC mega container ship fire, English Channel
Container ship MSC TERESA reported fire in engine room in the morning Jun 16 north of Ushant, English Channel, while en route from Sines Portugal to Le Havre France. Fire was taken under control and extinguished by crew. French Navy helicopter conducted two surveillance flights over container ship, last one at around 1500 UTC found no smoke and normal temperature. The ship resumed sailing towards Le Havre. As of 0500 UTC Jun 17, the ship was in process of berthing at Le Havre.
Three ships troubled at Tuzla, Turkey
Two accident involving 3 ships occurred at Kartal, Tuzla, Turkey, on Jun 16, both triggered by stormy wind. General cargo ship APRIL (either in lay-up or repairs) dragged anchor and started to drift towards shore, tugs took the ship under control just in time to avoid grounding.
Ro-ro HASAN SISIK (in lay-up or decommissioned) broke off her moorings and drifted onto berthed general cargo ship BORAS (reportedly decommissioned). Understood HASAN SISIK was taken back to her birth or to anchorage, it's not clear. In both cases, no severe damages were mentioned, no injuries.
Passenger ro-ro ship HASAN SISIK, IMO 7811446, GT 3714, built 1979, flag Turkey.
BORAS (General cargo vessel)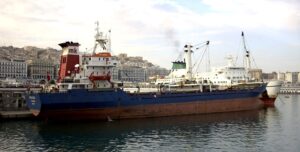 Vessel position, logs and particulars for General cargo vessel BORAS at FleetMon.com, the global ship database.
Ro-Ro cargo ship heavily damaged by fire, Sudan
Fire erupted in cargo compartment of ro-ro cargo ship KING MARINE 1, berthed at Sudan port, in the afternoon Jun 13. It took firefighters some 5 hours to take fire under control, she was taken out to port's outer anchorage and anchored at night Jun 13. Reportedly, the ship was destroyed by fire, but probably, it's an exaggeration, her AIS was on while she was taken out of port and anchored. No AIS during last 11 hours, as of 0630 UTC Jun 14. The ship arrived from Qatar on Jun 1 with cargoes of cars and understood, cattle feed. Reportedly, feed caught the fire.