Bulgarian seaman died after falling into hold, police found death suspicious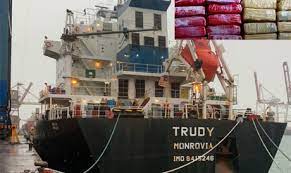 A deckhand of bulk carrier LUDOGORETS, berthed at Samsun port, turkey, Black sea, died on the spot after falling into cargo hold from a 14-meter height. Understood tragic accident took place on Oct 12 or Oct 13. Police found circumstances of the death of 47-year old Bulgarian seaman suspicious, investigation was launched. Bulk carrier with cargo of copper arrived at Samsun from Burgas Bulgaria, on Oct 9
Ukrainian freighter collided with Greek fishing vessel in Aegean sea
General cargo ship HOVERLA A collided with Greek fishing vessel west of Agios Efstratios island, south of Lemnos, Aegean sea, in the morning Oct 13, while sailing north en route from Algeria to Nea Karvali, northern Greece, east of Thessaloniki. No injures or serious damages were reported, both ships reached Myrina port, Lemnos, later same day, both under own power, escorted by a lifeboat.
Two injured crew of cargo ship airlifted to hospital, Italy.
Two injured crew of general cargo ship HELEN H were medevaced by fire rescue helicopter off Chioggia port, Italy, Adriatic Sea, in the afternoon Oct 8. The ship left Chioggia at around noon Oct 8, bound for Alexandria Egypt, and shortly after requested urgent medical assistance. Helicopter made two flights to lift injured seamen, both were transferred to hospital. Circumstances of accident unknown, as well as character of injures and seamen condition. Probably it's related to rough weather in the area. HELEN H continued her voyage.
Two ships distressed by typhoon KOMPASU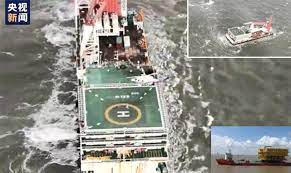 Two ships were distressed by the approaching typhoon KOMPASU (epicenter already in South China sea south of Taiwan, as of 0000 UTC Oct 12), in Chinese waters, on Oct 11. Service ship QI YE 6 understood to be disabled off Xiamen, 42 personnel were airlifted by helicopters to safety. As of 0300 UTC Oct 12, QI YE 6 was south of Xiamen, understood under tow and escort of two SAR ships. Heavy lift JIN WAN NV WANG dragged anchor and started to drift at anchorage off Changle Airport, Fuzhou, and reportedly, 16 crew were evacuated, though more likely, only part of the crew were evacuated. As of 0300 UTC Oct 12, the ship was some 2 nm off coast, status unclear.
Disabled freighter towed to Lavrio anchorage
General cargo ship MARE I was disabled in the evening Oct 13 in Myrtoan sea, south of southernmost Attica, Greece, while en route from Diliskelesi Turkey to Port de Sagunt Spain, Balearic sea. Understood it was a mechanical issue. The ship reportedly, didn't request assistance, but nevertheless, was taken on tow and towed to Lavrio anchorage, southeast Attica, where she was anchored at night same day. As of 0220 UTC Oct 15, she remained in the same position, detained until proven seaworthy.
10.10.2021: 1530 UTC: Posn: 01:15.8N – 104:11.3E, Singapore Straits.
Duty engine crew onboard a bulk carrier underway noticed two unauthorized persons in the engine room. The crew immediately informed the C/E who notified the bridge. Alarm raised and crew mustered. Seeing the crew alertness, the robbers escaped. A search was carried out throughout the ship. Nothing reported missing.
Kindly like us on Facebook