Fire on board of Turkish ship, Azov sea, Russia 1 crew died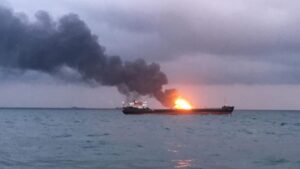 May 10 1440 UTC UPDATE: 1 crew reportedly died, fire is extinguished. 13 crew include Turkish, Inidan and Azerbaijan nationalities. Fire erupted on the bridge and probably, damaged or destroyed some or all equipment, that's why AIS is off. Russian media reported, that fire broke out in superstructure of one of cargo ships anchored off Temryuk Port, Russia, Azoa sea, in the morning May 10. The ship is said to be Turkish, she doesn't require assistance, assuring authorities that the crew will extinguish fire by own means. Ship's name wasn't revealed, but according to photo and AIS map, it's Turkish freighter AKUA. She left Temryuk port on May 8 and anchored on Temryuk anchorage, she's bound for Karasu Turkey. AIS signal missing during last 4 hours as of 1200 UTC May 10.
Catamaran with 25 on board burned out, sank, Galapagos VIDEO
Tourist catamaran CORMORANT 1 with 10 crew and 15 passengers on board caught fire early May 11 in Galapagos Archipelago waters. Catamaran burned out and sank, all 25 people on board rescued, safe.
Timber carrier grounding, Papua New Guinea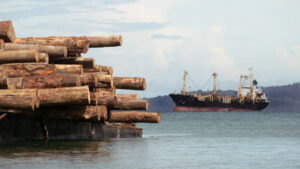 Bulk carrier MICROSTEP loaded with logs ran aground in China Strait, Mine Bay,southeastern Papua New Guinea, on May 3, while en route from PNG ports to port of destination (China, probably). The ship was transiting the Strait in eastern direction, she grounded on reefs, salvage company was assigned. Salvage required partial offloading on May 8 MICROSTEP was refloated and anchored near grounding site, to load offloaded logs and undergo inspection and investigation. Underwater inspection found no damages to ship's hull. On May 10 the ship moved into Mine Bay and was anchored off Gurney, PNG, situation unclear. Might be the result of investigation – reefs damages were mentioned, ship's anchorage might be related to environment damages compensation. As of 0430 UTC May 11, MICROSTEP remained anchored.
Owner of arrested container ship demands its' release
Container ship MATHU BHUM has been intercepted by Indonesian Navy patrol ship on May 4 off Belawan, North Sumatra, Indonesia, Malacca Strait, shortly after the ship left Belawan, bound for Port Klang, Malaysia. MATHU BHUM was taken back to Belawan and as of May 11, remained in port. The ship is blamed in violating ban of RBD palm oil export from Indonesia, she had on board 34 containers with refined, bleached and deodorized (RBD) palm oil. Ship owner protested the detention, RCL local attorney said company didn't know what was in containers, because RCL is a transporter, not a freight forwarder. Company and its' lawyers filed respective protest and understood, appeal, demanding ship's release.
Container ship blocked Maas fairway near Spijkenisserbrug, Oude Maas, Netherlands
Container ship WEC VAN RIJN ran aground on a sandbank in Oude Maas river, while sailing upstream to Moerdijk, Netherlands, short of Spijkenisserbrug Bridge, at 0250 UTC May 12. The ship blocked fairway, she was refloated with tugs assistance at around 0630 UTC, interrupted her voyage and was taken, instead of Moerdijk, to Matrans Rotterdam Terminal where she was docked at around 0800 UTC same day.