Singaporean tanker collided with cargo ship at Sudan Port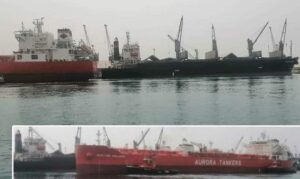 Chemical tanker MARITIME POLARIS contacted berthed unidentified cargo ship, most probably bulk carrier, at Sudan Port, Sudan, on Jun 13. Tanker entered port and was proceeding to berth, when accident occurred. Both ships sustained some damages, believed to be slight. Accident took place hours after livestock carrier disaster AL BADRI 1 at Suakin Port, Sudan.
Cargo ship stranded on beach for more than 4 months, Philippines
General cargo ship SUNNY LINK had to intentionally run aground at Abagatanen Beach, western coast of central Luzon, Philippines, on Feb 4, interrupting her voyage from Indonesia to China, reportedly with cargo of steel. The ship suffered water ingress and ran aground, understood, to avoid sinking. As of Jun 13, SUNNY LINK remains in the same position, local authorities request from owner to remove the ship, in view of oncoming typhoon season. SUNNY LINK didn't damage reefs, there's no leak.
Russian cargo ship allided with berthed Turkish container ship
General cargo ship SUN UNICORN allided with berthed container ship ABANOZ at Novorossiysk Port, Russia, Black sea, early in the morning Jun 15 after unmooring. SUN UNICORN berthed in the evening Jun 14 on arrival from Istanbul, so understood, she was shifting the berth at the time of an accident. SUN UNICORN also contacted pier. The ship sustained stern damages, ABANOZ probably, sustained only minor damages, because she left Novorossiysk in the afternoon Jun 15, bound for Samsun Turkey.
MAERSK 8,500 TEU container ship 2-hours grounding, Savannah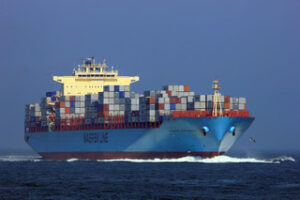 Container ship MAERSK SURABAYA ran aground in Savannah river near Old Fort Jackson at around 2150 UTC Jun 14, while sailing upstream to Savannah Port, en route from Charleston. The ship was refloated 2 hours later with several tugs assistance, resumed moving and was berthed at 0150 UTC Jun 15. No reports on damages and oil leaks.
Singaporean container ship interrupted voyage after 3 crew jumped overboard
3 crew members of container ship SIMBA jumped overboard in the morning Jun 15, when outbound ship was passing Fort George island, St. Johns River, Jacksonville, USA. 1 was caught shortly after he reached the shore, 2 other are still missing, search under way. Understood all 3 persons want to stay in USA as migrants or something. SIMBA sailed out of river, anchored, but 3 hours later heaved anchor and returned to Jacksonville, where she was berthed at around 1500 LT Jun 15. Why she didn't remain at anchor or resume voyage, and had to be taken back to berth, is unclear. SIMBA is deployed in Sea Lead Shipping AEC (Asia – East Coast) Service, understood next port of call is Colon, Panama.
Specialized fishing vessel on the beach
Specialized fishing vessel OCEAN S STAR was beached by heavy swell on Oquendo beach, Callao, Peru, on Jun 14. Understood the ship is in a lay-up, for quite some time already, maybe 2-3 years. Two watchmen on board were rescued, it is said, that the owner will probably, try to rescue the ship, because of valuable equipment on board.
Kindly like us on Facebook