FPSO Taking On Water In Nigeria
FPSO SEA EAGLE reported water ingress on Jul 24, she's positioned in EA field southwest of Warri, Nigeria. As of morning Jul 29, there weren't yet detailed and timely updates, to figure out what happened, what's going on and what are ship's status and condition. AIS seems to be working, latest position received at around 2300 UTC Jul 28. The leak didn't affect oil storage area, said FPSO operator SHELL.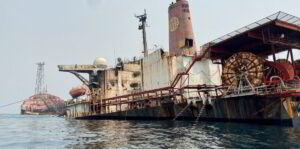 Sea Eagle FPSO is situated in the EA Field, offshore Nigeria, some 8nm SW of the Dodo River. General overview: The FPSO is permanently moored in a water depth of 26.5m. Crude oil is transferred by floating hose while export tanker is moored in tandem to the FPSO, a Safety Exclusion Zone of 5km is in force.
Speaking, spokesperson for the Shell Petroleum Development Company of Nigeria Limited, Michael Adande, said the incident did not affect the area where crude oil is stored on the FPSO.
Adande explained that the relevant authorities have been notified, adding that measures to contain the water inflows as well as repairs were ongoing.
"On Sunday, 24 July 2022, our Offshore Installation Manager on board of the Floating Production Storage and Offloading vessel, Sea Eagle, reported a leak in the hull of the vessel.
"The FPSO is anchored in the shallow waters. Relevant authorities were notified.
"The leak did not affect the section of the FPSO where any crude is stored. Measures to contain the water inflow have been adopted successfully. The repair works are ongoing.
General cargo ship aground, Primorye, Russia, Japan sea
General cargo ship NARVA ran aground at around 0300 LT (UTC +10) Jul 27 at Cape Ostrovnoy, east of Nakhodka, Primorye, Russia, Japan sea. The ship is en route from Vladivostok to Okhotsk Port, Okhotsk sea. As of 0100 LT Jul 28, the ship was still aground, according to track. No information on damages, salvage, oil leak if any.
Wind turbines parts ignited in cargo hold of berthed freighter, Netherlands
Fire erupted in cargo hold of general cargo ship NOVA berthed at Eemshaven, Netherlands, in the afternoon Jul 26. The ship loaded with wind turbines parts, to get to the hotspot inside cargo hold firefighters had to remove or relocate cargo on deck and in hold. Fire is said to be under control or extinguished, it started in one of the containers in hold bottom.
Bulk carrier collided with fishing vessel off Busan
Bulk carrier collided with fishing vessel or fish carrier in Busan outer anchorage waters at around 0200 LT (UTC +9) Jul 26. Both ships were under way, both sustained damages, both were anchored after collision. According to available data, bulk carrier can be identified as WOORI SUN, she left anchorage several hours after accident, and resumed sailing in NE direction, destination not specified.
Fishing boat hit by container ship, sank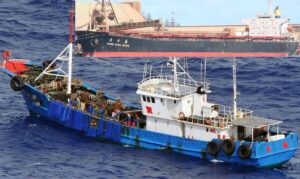 Container ship MORNING VINAFCO collided with fishing boat BTh 98750 TS some 30 nm east of Vung Tau, at around 0700 LT Jul 25, while en route from Da Nang to Ho Chi Minh. Boat sank, all 4 fishermen on board were rescued by MORNING VINAFCO, to be disembarked at Ho Chi Minh. The ship continued voyage, she arrived at Ho Chi Minh and was berthed, in the afternoon same day.
Tug sank after explosion, 4 burnt, 1 missing, Indonesia
Tug BLUE DRAGON 12 suffered explosion and subsequently, sank, in the afternoon Jul 23 in Semoi Setawir, Sungai Sepaku river, upstream from Balikpapan, Eastern Kalimantan Makassar Strait, Indonesia. Of 12 people on board, 4 suffered burns (their condition unknown), 1 went missing, 7 escaped. The tug was waiting for barge Sea Dragon 2712 to be loaded with coal. There were wielding works taking place in stern area, shortly after works started
Kindly like us on Facebook/twitter