MARINE INCIDENTS: Filipino Crew Died In Hospital, All Filipino Crew To Be Replaced With Indonesians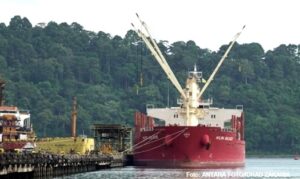 50-year old crew of reportedly, Filipino nationality, died in hospital in Cilacap, southern Java, Indonesia, on May 11. He along with 13 other crew (out of total 20, all reportedly, Filipinos) of a bulk carrier HILMA BULKER was tested positive shortly after the ship arrived at Cilacap from India in late April, with cargo of refined sugar. The ship underwent quarantine and is to be offloaded, to sail to Singapore after completing cargo operations. All crew are to be replaced with Indonesian crew, Filipino seamen are to be repatriated.
Again, no details on seaman's death exact cause and character of illness; no details on crew vaccination.
One More Filipino Crew "Covid" Death
A crew member of bulk carrier; IVS PEBBLE BEACH in Narvik, Norway, died from coronary issue, but because he was tested positive, Norway authorities believe he died from covid. Of 21 crew, 18 were tested, with 16 of them found positive. The ship arrived from Rotterdam to Narvik on May 5, and since arrival, remains anchored. The ship is Philippines-flagged, so understood, died seaman is of Filipino nationality. The same rhetorical question which is not to be answered – what is it exactly he died from; were the crew vaccinated?
Hardly a day passes without reports about crews mass test positive; crew mass sickness; 2 and more crews hospitalized and treated in ICU; crew deaths (among latest death cases covid-tied death of a 45-year old Filipino crew member of car carrier), etc. Nothing like that happened in 2020, and certainly, not before 2020.
Read Also: ESG Rules, Rather Than IMO Regulations, Will Nudge Shipping To Net Zero
Freighter Collided With Inland Cargo Ship In Outer Maas, Both Heavily Damaged
General cargo ship NORDERSAND collided with inland cargo ship BACCHUS in Outer Maas in the evening May 11, in Barendrecht area, Rotterdam. NORDERSAND was en route from Rotterdam to Moerdijk port, while BACCHUS was en route from Dordrecht to Barendrecht, so the ships were proceeding in opposite directions.
BACCHUS bow was severely damaged, the vessel was taken to Europort and berthed. NORDERSAND suffered several meters long starboard hull breach above waterline amidships, and it's not clear what happened to ship's anchors. The ship remained at collision site for some time, probably she ran aground during accident. Later she was taken to Rotterdam, and berthed.
Reportedly, NORDERSAND deviated from her course before collision, reason unknown.
UK Royal Fleet Auxiliary Tanker Fire, Portland
Fire erupted on board of UK Royal Fleet Auxiliary supply tanker RFA FORT VICTORIA in the morning May 10 at Portland, UK, where the ship is berthed. Firefighting teams from neighbouring areas responded, but reportedly, by the time they arrived fire was already extinguished by personnel on board. 4 people were treated by medics. Extent of damages unknown.
UK Royal Fleet Auxiliary supply tanker RFA FORT VICTORIA, IMO 8606032, displacement 31066, commissioned 1994.
Korean Bulk Carrier Towed To Safety, Marmara Sea
Bulk carrier SEA HOPE suffered engine failure in Marmara sea south of Sivri Ada island, south of Istanbul, in the morning May 13, probably while maneuvering to anchor at anchorage in this area. The ship was taken on tow and towed to Ahirkapi anchorage, as of 1300 UTC May 13 she remained in the same position. Bulk carrier is en route from Toros, Turkey, to Samsun, Turkey, Black sea.