A port can be defined as a harbour or an area that is able to provide shelter to numerous boats and vessels (transferring people or cargo), and can also allow constant or periodic transaction of shipment.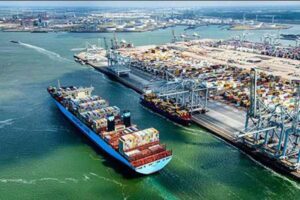 In layman's language, a port is a place to facilitate loading as well as unloading of vessels. Technically speaking it is a convergence point between freight circulation domains.
Ports are the inhibitors which begin the social and economic growth of a region by not only allowing trade but also by serving a hub for social activities.
These days, most of the ports (especially seaports) are well-equipped with specialized fixtures such as forklifts and gantry cranes to facilitate regular dealings of cargo.
Ports can of great significance to a nation, as it promotes the commercial welfare and the trade scenario. Ports can also be of military importance, as they are used to keep the warships before moving out to the battle scene.
Ports are also a major source of employment as a large number of workers are employed at the ports.
The port can be a natural establishment or artificial construction, which provides a place for the loading and unloading of cargo. Ports can be for large seagoing ships and also for inland waterways such as rivers and lakes. The depth of the ports plays a vital role in allowing various types of ships to enter and dock at the port.
But nowadays along with its basic purpose, a port is equipped with certain other amenities and facilities. Different types of ports are equipped with different port facilities.
Kindly like us on Facebook/twitter