"We can now start making use of rail from Lagos to Kaduna and Kano"
In this interview with Shipping Position Daily, Managing Director of Inland Containers Nigeria Limited (ICNL) Mr Ismail Yusuf, speaks about the company, its baby, Kaduna inland Dry Port and other industry issues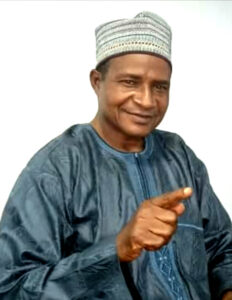 How will you access the maritime industry so far this year?
In my view, the maritime sector of Nigeria's economy is germane to the development of the economy. Every nation requires it, because no country has everything. It requires that the country develops its economy. As we depend on other countries, other countries also depend on us either for one item or the other. We thank God Nigeria is not lagging behind and we have been able to do better. We know that we have series of challenges and there is no sector that doesn't have its own challenge. So far so good, Nigeria is moving forward in terms of maritime holistically.
How has the industry fared because of the chaotic transport situation in Apapa?
You and I know that in the last 20 years we were not facing these problems we are facing now in accessing the port. The roads were not as bad as this. The rail was working. But today, we can see that the state of our roads are getting worse. Even though the present government had tried to put them in better shape, the past administrations had negated all the transportation systems in the country. That is why the accumulated problems keep increasing and also why we see people being affected one way or the other. This is because if the transporters and truck owners cannot access the ports to pick cargo, and deliver to the warehouses of the owners, then how will the economy grow? Even if it is growing, the rate of its growth will not be the rate we desire. So a lot of challenges are there for the government and the regulatory agencies to work on and if that is not done, then we will still remain where we are.
In the light of some of the challenges faced in the industry, what are the effects on the operations of ICNL and its sister company; KIDP?
So far so good and in a simple language, we thank God we are surviving within the situation we find ourselves today. ICNL has been on for the past 40 years and we have been trying to survive under different policies either monetary or fiscal policies of the government. Every year, the government comes up with either fiscal or monetary policies that affect imports and importers will, first of all, require the budget to be studied to enable them to understand the government policies before they can import. When that is done to importers, it also affects our business. It is when they import that we get jobs and when they don't import, we don't have jobs or the quantity we get reduces. From the company operations, we have not been operating at full capacity because of the issues that I just mentioned, but we thank God that at least we are above average.
Like you said, ICNL has been on for about 40 years. What has kept the company on top of the game?
Expertise, knowledge, quick delivery, efficiency, transparency, and integrity of my staff have kept the company going. They are all committed to doing their job well and the company is also paying them well. That is what is keeping us going.
The KIDP has been a testimony to the boldness of ICNL and also your readiness to take on new frontiers. How has it been since it was commissioned?
KIDP is a baby of ICNL as you said. If we are not good at what we are doing, that wouldn't have happened. You and I know that in 2004 there were six licensed inland dry ports, but none is in operation today, except KIDP. We give glory to God for helping us to achieve that. Since the commission of the Inland dry port by Mr. President in 2018, we have been trying our best to see that the inland dry port functions very well, but we have our numerous teething problems which need the assistance of regulators and the federal government to enable us go far as it is expected of us.
Can you tell us those challenges?
First, what you require for a dry port is international recognition which I believe is supposed to have come with the gazette. The regulatory agencies are supposed to work on that. If you create a court, you cannot expect the court to do its best without support from the agency that created it. Secondly, the agencies that work in the maritime sector must be ready to work with the dry port like the shipping companies. Shipping companies give Bill of Lading, but today it is a difficult thing; they are not willing to do that, because they don't want their boxes to move to the hinterland. What you hear from them is that insurance doesn't cover inland freight. But I believe that the agency regulating the dry port was supposed to have a forum for discussion with shipping lines on what the Federal Government wants for the country and how it has to be done. They should seek their support for that to work. For us working in KIDP, we still use bonds to pick containers; which is not supposed to be. The Customs has to create a code for the dry port and they need to create a code or platform in their ''NISS2' for a dry port which they don't have now. That is why they still use Customs bond to pick containers like a warehouse. The rail needs to work efficiently with bigger capacity. Today, how many rails have you seen going to the North? If the rail system is not working, then stakeholders can tell you they are not willing to transfer their containers to Inland ports because of the risk and security challenges in the country. So all these things need to be looked into to enable KIDP or every dry port established to function well.
I thought that the Nigerian Shippers Council has been on top of this game and they have done all that is needed to be done.
If they told you they have done that, then they should show proof. How many of the shipping lines using KIDP are issuing Bill of Lading? In what forum was this discussed. Was the dry port at that meeting? Where is the paper to show it?
How far have you gone in your bid to be the concessionaire for Onitsha River port?
To be sincere with you, everything is left with the government. We bided and we're waiting for the result to come out; that is what we are waiting for. But if by tomorrow they say ICNL should come and operate Onitsha river port, within one month we will move in. We have the expertise knowledge, we have the equipment, and what it takes to start operating the port.
You also had the idea of developing a bonded terminal in Oba in Anambra State. What is delaying this?
You know, in business and investment, you will always calculate the risk and you will not just invest your money without recouping it. We bided for Onitsha river port, and we have been waiting for the past two years. If that (Onitsha River port) will not come, we had thought of an alternative and the alternative is the Oba bonded terminal which is also close to Onitsha. What is delaying the take-off of the Oba bonded terminal is the Onitsha river port that we bided for. We want to see the outcome of that. So that we don't win Onitsha river port and we have committed our funds to the bonded terminal. You know these two places are very close to each other. We cannot spend more than 20 to 25 minutes moving from Onitsha to Oba. The closeness is there. We cannot run this and run that. It doesn't make sense.
But if you are to choose one, which one will you choose and what is the attraction there and catchment area?
I prefer the Onitsha river port. Onitsha itself is in Anambra, and Asaba is very close. It is just a bridge separating them. So you have Anambra, Delta, Imo which is about 100km away and then we also have Abia. That means we have many states that will patronize the place.
Now that we are in the second half of the year, what's your projection, where do you intend to see ICNL and KIDP?
Presently, we are done with half of the year and we are left with six months in the year 2021. We plan to see that the throughput in terms of cargo increases. My department of marketing and commercial are working assiduously to ensure that we increase our throughput. Not only that, we are also working on KIDP in terms of export of agricultural produce, so that the volume will increase. The reason we want to focus on export is because of the federal government's diversification from oil to agric. We thank God that the rail has been commissioned, that is the standard gauge from Lagos to Ibadan. That will pave the way for the old narrow gauge to start functioning. You could remember when they started constructing the standard gauge, there were obstructions. Some of the old tracks were removed. We thank God they've laid them back and we can now start making use of rail from Lagos to Kaduna and Kano. From that, exports will be able to come into the port without hindrance. There will be no problem with accessibility and the cost of transportation will also reduce.
Kindly like us on Facebook