The National Drug Law Enforcement Agency (NDLEA) has reacted to the recent investigative report of Shipping Position Daily where it was reported that Lagos port is now a haven for hard drugs and also tops the lists of destination points for regulated drugs in the country.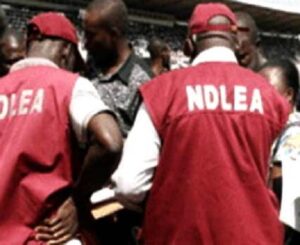 In a chat with our correspondent last week, the Area Commander, Apapa Port Special Area; Mr Bashir Gadzama, explained that drug comes in big quantities through the seaports because there are bigger opportunities for concealment of drugs in large quantities in goods shipped to the seaports.
He said most drugs that come in through the seaports are in large quantity when compared with other modes of transportation or other means of trafficking.
He said: "The truth about it is that drug trafficking is something that deals with space, anywhere there is space; goods that are moved from the seaport are mostly in very large volume, there is hardly any other means of transportation that move goods in bulk like the seaports. For that reason, you will expect that there is so much opportunity in the concealment of goods that are being shipped through the ports, even the vessels itself you know it can take one month to search a ship. So there is a logical conclusion that there is bigger opportunity for concealment in the goods shipped through the seaports, so that definitely could have given rise to the increase".
Explaining further, he said, "I will say that Nigeria generally is a transit country for the drugs and the drugs must definitely pass through somewhere, so every entry point is high risk; not just the seaports, of course the seizures in the airports are smaller, but more often because you are dealing with passengers you are not dealing with bulk cargoes".
He however said with the determination of the highly-motivated officers of the agency and the cooperation of sister agencies, the NDLEA has been able to apprehend and intercept drugs at the various entry points.
"We achieved this because we have determination to work, we have highly-motivated workforce and we enjoy corporation of sister agencies with very good source of intelligence", he said.
Kindly like us on Facebook