A German virologist fears that public viewing events of World Cup games in November and December could be coronavirus "super-spreaders".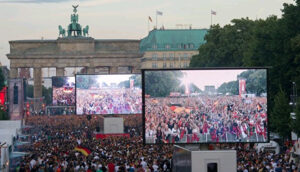 Virologist Hendrik Streeck said the situation could be serious, because of the late dates in the year of the tournament in Qatar.
He explained that most public viewing will be indoors, and not outdoors, as against past World Cups held in June and July.
"As a result, we may also create larger outbreaks again, or there may also be a super-spreader event, and you have to prepare for that," Streeck said.
He said that wearing masks could minimise infection risks because "we know that the mask works and that the mask provides protection."
Streeck also called for good hygiene concepts, especially for the risk groups such as old people in nursing homes for who a fourth vaccination may also be helpful.
Infection rates in Germany are on the rise again in spite of the warmer summer temperatures, mainly due to a new Omikron variant.
Streeck said that preparations need to be made for autumn and winter months.
"BA.5 has an increased immune escape. People who have been vaccinated can become infected again because the immune system can no longer recognise the variant as well.
"In addition, it is also somewhat more contagious," Streeck said.
Kindly like us on Facebook