Ship owners have blamed bureaucracy as the main reason the Nigeria Maritime Administration and Safety Agency (NIMASA) has failed to put the floating dock to use 39 months after the agency acquired the gigantic N50 billion equipment.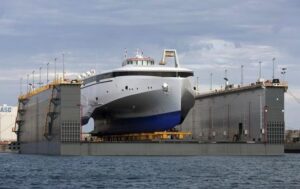 This is even as a source at the Naval dockyard confirmed to our correspondent that the floating dock is already out of class and cannot meet global expectations, even as he alleging that this is another reason NIMASA has failed to put the floating dock to use.
Recall that the Director General of NIMASA, Dr. Bashir Jamoh had assured that the present management had opened discussions with the Nigerian Ports Authority (NPA) and an intending managing partner to begin operation of the dockyard.
"We have been discussing with the managing director of the NPA to move our floating dock from its present location at the Naval Shipyard to the Continental Shipyard owned by the NPA. NIMASA has also signed a memorandum of understanding with international oil companies (IOCs) that are doing business with the Nigerian National Petroleum Corporation (NNPC) to be taking their ships to NIMASA's dockyard for dry-docking when the dockyard begins full operations," Jamoh previously said.
However, 11 months after giving the assurance, stakeholders in the nation's maritime industry have raised concerns as to why the agency is yet to put the floating dock to use.
In a chat with our correspondent, a ship owner and member of the Nigeria Indigenous Shipowners Association (NISA); Mr. Tunji Brown noted that bureaucracy is the main reason the floating dock is yet to be put to use.
According to him, "When NIMASA took delivery of the floating dock in 2018, it was seen as an enabler to boost ship repair capacity, create wealth and employment for Nigerians. But three years after, the facility has since been lying fallow. First we learnt they were signing MOU when the new DG assumed office and said the floating dock will be deployed immediately, that was the first information we got about it last year. But the floating dock is just there, and it is what Nigeria needs at this time; facility to be able to dry dock, but I think it's about bureaucracy. I am not too sure there is anything serious stopping the project from going ahead, it can work if all the necessary bottlenecks are removed".
A source at the Naval dockyard who pleaded anonymity, told our correspondent that the floating dock is already out of class, and that is why NIMASA cannot put the floating dock to use. He alleged that the NIMASA N50 billion floating dock can no longer meet the demands of shipowners of today and as such cannot be put to use.
In his words: "I think NIMASA is just afraid to tell Nigerians that the floating dock they acquired for N50 billion and was not used to dry dock a single vessel was already out of class.
"That floating dock that I see there can no longer meet the demand of ship owners, it is out of class, I mean if it is not so, why is it so difficult to put it to work, we like wasting resources in this country and a whooping N50 billion has just being wasted, it's a pity and I weep for our country", he said.
On his part, Taiwo Akinpelumi, a ship owner, also advised NIMASA to consider going into public private partnership as a way to put the floating dock to use.
Kindly like us on Facebook