An attempt to smuggle 8.7 million Captagon pills was thwarted by the Zakat, Tax, and Customs Authority at Jeddah Islamic Port.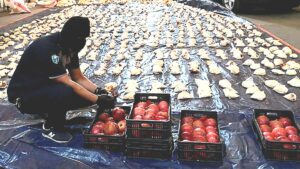 During an inspection, the pills were discovered concealed inside cocoa bean bags. The General Directorate of Narcotics Control (GDNC) detained three individuals.
The authority emphasized that it will persist to secure customs controls on all imports, exports, and commuters to overcome the land, sea, and air trafficking and bring an end to smugglers and organized crime.
The Zakat, Tax, and Customs Authority urged everybody to call the Security Reports Center at 1910 to notify any relevant information about smuggling or customs breaches in strict confidence. It stated that informants would be compensated monetarily if their information was accurate.
Due to an increase in smuggling attempts, teams from the GDNC in cooperation with the Saudi port authorities have been on heightened watch this year.
In a similar situation, authorities foiled an attempt last June to smuggle over 4.5 million pills concealed in a shipment of oranges received through Jeddah Islamic Port. Over 14 million amphetamine pills were smuggled into the Kingdom from Lebanon in another smuggling attempt, concealed in a shipment of iron sheets confiscated at Jeddah Islamic Port. This attempt was foiled, and a Saudi citizen suspected of involvement was arrested in Riyadh.
Earlier in April, a stash of 5.4 million Captagon pills concealed inside boxes of pomegranates arrived at the Islamic Port of Jeddah, prompting the Kingdom to suspend all imports of fruit and vegetables from Lebanon following repeated drug busts concealed inside food shipments. Additionally, 4.3 million amphetamine pills were discovered concealed inside an apple shipment at the port in April.
To support the Kingdom's anti-smuggling efforts, the GDNC has established a string of professional authorities, including the Border Guard and Saudi Customs Authorities at all land and seaports, as well as departments of passport, security patrol, and traffic departments.
Kindly like us on Facebook