Even though Nigeria endorsed the African Continental Free Trade Area (AfCFTA) very late, her active participation in currently endangered. The nation is yet to ratify all of the six mandatory protocols that are needed for all participatory countries under the terms and conditions, investigations by Shipping Position Daily has revealed.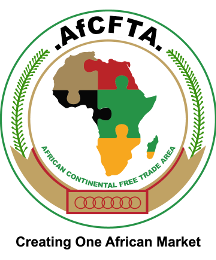 Recall that, Nigeria deposited its instrument of ratification of the African Continental Free Trade Area agreement on December 5, 2020, becoming the 34th member state to formally ratify the treaty.
Prior to the ratification, there had been much interest in Nigeria's decision regarding its AfCFTA status because of its position as Africa's largest economy and the continent's most populous country with more than 200 million people.
Notwithstanding the hype, our correspondents gathered that the country has not carried out a single trade under AfCFTA since inception in January this year.
This is as a result of failure to ratify the six protocols, which include: Trade in goods protocol, Trade in services protocol, Dispute resolution Protocol, Intellectual property protocol, investment policy protocol and Completion policy protocol.
It was confirmed that, the country has only managed to ratify three of the six protocols, eight months after the AfCFTA kick-started.
Our correspondent gathered that the country only barely managed to ratify the Trade in goods protocol, Trade in service protocol, and Dispute resolution protocol, but has failed in ratifying the Intellectual protocol, Investment policy protocol and Completion Policy Protocol.
A source at the National Office of Trade and Negotiations (NOTN), which is the body that coordinates all trade negotiation and institutionalizes all framework and foundation for Nigeria's trade policy infrastructure, confirmed to our correspondent that there is no assurance that the country will ratify the remaining three protocols this year.
The source explained that Nigeria is more concerned about the more pressing issue of insecurity in the country than AfCFTA issues.
The source also blamed Nigeria's foot-dragging before signing to be part of AfCFTA as the major reason the country lost its position of leadership in Africa to Ghana, which according to him, was much more prepared than Nigeria, even though Nigeria was part of the first set of countries to begin negotiations about the African trade.
According to him, "Nigeria is yet to operationalize the AfCFTA in terms of giving value by trading under AfCFTA terms and conditions, we have not done one single trade, remember that we dragged our foot so long; for almost one year before we even signed, so we lost the first-comers advantage that countries like Ghana had.
"Even now, Nigeria is supposed to be like the center; the rallying point, but today, Ghana is the secretariat for AfCFTA implementation, so we lost that naturally, it's supposed to come to us because Nigeria is one of the first countries that even started the negotiations"
He lamented that, "the infrastructure to operationalize both the legal and market infrastructure is still not there in Nigeria, what the committees in Nigeria have just been doing is to train people and sensitize them on the AfCFTA, Nigeria is yet to perfect some of the protocols that are needed, we have about six different protocols that Nigeria is supposed to ratify, out of the six protocols, we have been able to actually ratify three and until we complete this six protocols, we cannot even trade".
Throwing more light, he said: "I am not seeing us doing anything this year, trade in goods protocol we have completed, trade in services protocols, we have completed, dispute resolution protocols have been concluded as well, but the three that have not been completed are: Intellectual property protocol, Investment policy protocol and Completion policy protocols. So these are the things that are delaying and I am not sure with this insecurity and all that is going on, I don't think Nigeria will be able to do anything on AfCFTA this year".
"Besides that, some other things that are delaying it is the issue of clearing and settlement process; such that if I sell something to somebody in South Africa or somebody in Morocco, you know we are not settling the thing in US dollar, so we want a situation where an African currency can easily settle those trades, so that has not been perfected, we have what they call Pan African payment per settlement system, that is being coordinated by the body of Central Banks in the whole of Africa, so that part is yet to be harmonized" he added.
Confirming the fears expressed, the immediate past Director General, Lagos Chambers of Commerce and Industry (LCCI) Mr. Muda Yussuf, stated that nothing much has happened with respect to practical business.
According to him, Nigeria is still at the sensitization stage and there is still a whole lot that needs to be done in terms of preparedness.
"Nothing much has happened with respect to practical business, i.e export and import under the agreement, so we are still essentially at the stage of sensitization, many businesses are still not clear as to what all these is all about, there is no clear information as to what products will attract free duty, what products is regarded as sensitive products, which will still continue to retain duty, there is still need for further capacity building among the agencies that will be involved in the management of the process, like the Customs, the standards institutions, and so there is still a whole lot that needs to be done in terms of preparedness, so buy and large I think we are still at the stage preparing for this", he said.
Sources confirmed that AfCFTA has started, with the first shipment of goods having been made on January 3, 2021from Ghana to a company in South Africa.
The United Nations Economic Commission for Africa estimates that the agreement will boost intra-African trade by 52 percent by 2022. With a successful implementation of this new trade initiative, there is potential for Africa's manufacturing sector to double in size from $500 billion in 2015 to $1 trillion in 2025, creating about 14 million stable jobs.
Kindly like us on Facebook