Oluyinka Onigbinde & Joshua Yousouph
Apparently frustrated by the decision of the Lagos state government banning motorcycle riders popularly known as "okada" from operating on highways and in six Local Government Areas in the state, riders operating at the popular Mile 2- Tin Can-Apapa and environs have threatened not to stop working.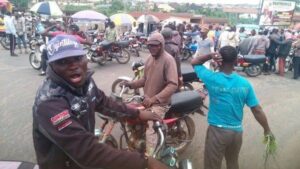 Those spoken to by our correspondents dared the state government, and boasted that they await the June 1(today) deadline given, to see what will happen.
Recall that the Lagos State Governor, Mr Babajide Sanwo-Olu recently issued a fresh total ban on Okada riders' operations in six Local Government Areas, which are: Eti-Osa, Ikeja, Lagos Island, Lagos Mainland, Apapa and Surulere.
In a statement, he had also directed that security operatives should enforce the proscription order in the affected areas.
However, in a chat with one of our correspondents, a motorcycle rider in Apapa who simply identified himself as Ibrahim told Shipping Position Daily that the riders await the deadline; he said they are not ready to leave the state.
He alleged that the ban was aimed at frustrating the okada riders who are mostly northerners from Lagos, as many blame them for the problem in the country. He added that against general belief that they live on bikes with no home to call their own; Ibrahim said he leaves in Ajegunle area of Lagos state with a family of four. He said the only job he has is the okada job which he uses in taking care of his two daughters and wife, and will be difficult to return back to his hometown in Kaduna with his family.
Also, another Okada rider in a discussion with our correspondent threatened that riders at Mile 2 will fight back, he said the total number of riders that operate between Mile 2 and Apapa on a daily basis are over 5000.
He alleged that the Lagos state government makes over N2 million on a daily basis from sales of tickets in Apapa alone.
He lamented in faltering pidgin English that: "Everybody hate we the okada riders, if the government ban Okada because they killed one person in Lekki, what of okada riders that have been killed by trailers, that have been killed by reckless driving of some commercial drivers and even car owners, it won't make the news, because we are common okada riders, the Police hate us, the government hate us, the people hate us, even when others are wrong, they blame it on us, some riders will even call us 'these Boko Haram people', because they don't like us".
"Yet on a daily basis the government makes over N2 million from us just between Mile2 and Apapa, alone, can people do without okada when the road is under construction, we are waiting the final day" he said.
On his part, another rider; Mustapha said he was ready to return to the north when enforcement begins, because according to him, none of his family member leaves in Lagos.
However, yet another rider in Apapa named Mr Emeka Okafor blamed the northerners for the incessant indiscriminate extrajudicial killings that are being perpetuated in Lagos. He also noted that he has no choice but to go back to Ajegunle where he resides or better still get a new job to do.
A transport union task force member, who simply gave his name as Yusuf and who did not disclose his union's identity stressed that the use of "Okada" in Apapa Local Government cannot be out rightly banned, but can only be reduced. He said this is because the population in Apapa is in high demand of transport services to move them to their offices and homes. He said there is little or no alternative to the use of Okada in Apapa considering the fact that the roads are not free.
Kindly like us on Facebook