"I remember as a member of the Council and Chairman of Education Committee, we accredited over eight institutions"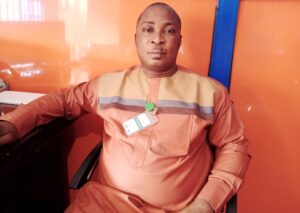 In this interview with Oluyinka Onigbinde, the Vice President of Association of Nigerian Licensed Customs Agents; Dr Kayode Farinto speaks extensively on the coming elections into the governing council of the CRFFN
Are you satisfied with the guidelines for the coming election into the Governing Council of CRFFN?
The guidelines are very explicit and it is okay by me. Don't forget that there are issues about some little associations coming up with their communique here and there. But the guidelines are okay.
ANLCA has been silent about the whole issue, why?
ANLCA has been silent because the various associations have come together under the umbrella of the consultative forum and when the Permanent Secretary (Ministry of Transportation) came, you saw her Communique, even though there was a resenting voice. But yesterday, there was another Communique. We are relying on the Gazette which is now in Law empowering the various associations to form the Freight Forwarders Consultative Forum. Relying on that, we are sending our communique to the honorable minister. This is because the law in Section 8, 2 states that it is only the various accredited association that can speak on behalf of freight forwarders in Nigeria and no individual can do that.
With the distraction and divisions in your associations, how prepared are is ANLCA?
There is no division, we only have internal wrangling which is normal in any democratic setting. Even in our houses, we have times where children of the same parents disagree over some issues. But I think we have passed that. By virtue of our last NEC meeting, some people were suspended and expelled. Somebody wrote an apology letter, the NEC gave him some conditions which he met and he has been admitted. Nobody is above the law. If you say you are joining an association or any organization, you must be ready to work within the confines of the law of that association. Even the Corporate Affairs Commission does demand for the constitution of the Association which is sacrosanct.
So how many ANLCA members are contesting?
We have about six to seven candidates contesting, but still under the 6-6-1-1-1 arrangements.
There has been apprehension that ANLCA members may not win because of the internal wrangling. How worried are you?
It is not an issue. We know there is going to be an election and everybody is preparing for it.
Are you willing to reach out to some of the suspended or expelled members for this particular election?
No, except they do the needful. If they do the needful, there will be a NEC meeting where their issue can be revisited. The fact that they were expelled or suspended does not mean that the issue cannot be revisited. All we are saying is that nobody should think that he can be violent. When we say it is an association, you willingly join and if there are regulations, you should be a conformist. If you are a non-conformist and you are sanctioned, then take it the way it is. The problem we have in this country is that we have some people who believe they know and they don't know anything. My professor told me that when you meet somebody that doesn't know anything and he claims to know something, run away from such person because he is a fool. But if you think that you have erred because nobody is above mistakes and you are ready to show remorse by way of apology and retracing your steps, why not; your issue can be revisited. The fact that we are here today does not mean we will be here permanently. But the fact that we are here means that there is a constituted authority, there was a constituted authority which we gave support to, then why now? We don't look at the face; we look at the office. That is the mistake some people are making.
Asides from one Mr. Temitope who came out openly to apologize, has there been any move by some of the suspended members?
Of course, there are. I don't want to let the cat out of the bag now because, is it still in an incubation stage and we cannot discuss an issue that is still in an incubation stage until it becomes an embryo, fertilize it and it becomes the real thing. For now, there are a few of them who are reaching out to us.
We have heard that one of the associations has boasted to win all the Council seats.
It is now behind us. We have left that behind us because if we talk that we will be having issues. The leadership of the various associations have come together under the Freight Forwarders Consultative Forum; we believe we need to speak with one voice. That is what we are doing now.
There are some dissenting voices within and out of the association regarding this formula or 6-6-1-1-1. What do you have to say about this?
It is normal in every democratic setting. There is something we call "Vox Populi" which implies the Voice of the people. It is believed that the voice of the people is the voice of God. If you want to have an elective vote and the majority of people or leadership is saying let us look at it this way. What we are trying to do is trying to stop money bags or people who are not freight forwarders from hijacking the council. That is what our leaders are saying. I do know that there are some people who are actually privileged to have been members of this council and they never added value but now that they saw that POF is coming on board they think they can be part of it. They should not forget that at the last Council meeting when I was a member, we saw the trap that was set for the POF where some individuals think they can collect money. What we did smartly was that we didn't give individuals money. I raised it at the council that as a kind of incentive, we should give back a percent to the declarant who is actually bringing that money. So whoever thinks that he is going to the council to make money is deceiving himself. I know of a Chairman who was moving from one country to the other as a member of the council and never added value. I remember as a member of the Council and Chairman of Education Committee we accredited over eight institutions. It is now history. We can see that our freight forwarders are going back to school because there are prerequisites. If by the end of this year or the beginning of next year, you do not have a Diploma in freight forwarding, you may not be able to practice. That is why we want to separate the chaffs from the grains. So any dissenting voice is normal in every democratic setting. But what we are saying is that there are some people who have not added value to the Council and have been benefiting from the council and they think it is going to be continuous. I want to tell you that at the last council when I was a member, the president of Nigeria has reviewed the sitting allowance to only N50,000 and you are expected to sit only three times a year. So anybody that thinks he is going to the Council to make money is making a mistake because you are going there to work. The opportunity we had as a Chairman of a committee is just the vehicle that was given to us to be able to move here and there, except if that is what is enticing them. There is no other thing that should entice people to the Council except those who want to add value.
Does it mean ANLCA is also in support; that whoever is not nominated by an association should not contest?
Of course, ANLCA is a signatory to that Communique and I cannot go outside what my association is saying. The decision is binding on me and everyone.
The Minister of Transportation, even the Permanent Secretary has described CRFFN as a house of petition owing to various petitions.
I am not surprised because when we were in the Council towards the twilight of our administration, there were lots of petitions. Our major problems in this industry are those that believe that things should be done their way and all these old leaders who don't want anything about change. I was privileged to know that there were lots of petitions from even our time when we were winding up and it is these individuals who think if they are not part of this Council, the Council should not be in existence. Whether anybody likes it or not, the Council is moving forward because value must be added. We need to look at the freight forwarding business and see how we can sanitize it, because we are being given many negative names. It is unfortunate that people are thinking like that.
Recently, we spoke with the President of the National Council of Managing Directors of Licensed Customs Agents who said Licensed Custom Agents are not freight forwarders.
No, he is making a mistake. Chief Lucky Amiwero is somebody I have respect for. Maybe there was a misconception, because I took my time to listen to that interview. He said licensed customs agents that are going to CRFFN are fools. He may be right in his own opinion. That is his personal opinion. But what I do know is that you can be a licensed customs agent and be a freight forwarder. But you cannot be a freight forwarder and be a licensed Customs agent even though it is a logistics chain. For you to be a licensed Customs agent you must be a specialist. What I expected Chief Lucky Amiwero should have said is that Licensed Customs brokers must have their own institution, instead of saying that they are fools. Whether you like it or not, if you do not belong to CRFFN then where do you go? When I was acting as the President of ANLCA, I set up a committee to give us a proposal on how we can have our council. The proposal has been submitted. But if you want to have an institution like that, it will run into billions of naira because either is it executive or any other bill, someone must sponsor that bill in the National Assembly and you know what that means in the Nigerian factor. Sponsoring a bill is like contesting for an election. If you are now saying some people who are licensed customs agents and joining CRFFN are fools, that is a mistake. This is because when the Council was put in place Chief Lucky Amiwero and myself contested and we both lost. So why did I not say the house should come down? A leader must learn to let go when you are supposed to let go and a leader that does not leave when the ovation is loudest will be kicked out of the system. That is the truth, whenever anybody likes it or not. As I am now if I call myself a leader and there are some boys who believe that we are marking time. We should look behind and see that there are things we should not be involved and we leave for the boys. Saying Licensed Customs are fools for belonging to the CRFFN is wrong. That is an insult and that is not too good. I have respect for him but I think he should retract his statement. In fact, he owes us an apology for saying that because whether he likes it or not, I am a member of CRFFN today and I will still be until tomorrow when we perhaps have another Council for registered Customs brokers or Licensed Customs agents.
The Minister said the associations should go and put their house in order, to be suitable for the election. Are there any developments as regards this?
Of course, yesterday we had a meeting of the Freight Forwarders Consultative Forum where all the associations appended their signature to the 6-6-1-1-1 agreement. On that of AREFFN, the Board of Trustee Chairman, Dr. Frank Ukoh came and signed on behalf of the association. So I want to believe that we are good to go.
Don't you think this is against the Minister's directives?
No, is not against the Minister's directives. The Minister has studied the law very well and he knows that the freight forwarding associations have important roles to play in constituting the Council and that was why he gave them a marching order of two weeks' ultimatum. If the Minister has not seen the law, he would have said that the election should be conducted on individual basis. But because if we look at the gazette which states that all freight forwarding associations shall form Freight Forwarders Consultative Forum and they shall speak on behalf of freight forwarders and no individual shall speak. The Minister gave us the marching order and there has been a Communique signed by all the accredited associations. So we are good to go. The Communique will be given to the Minister. So it is left to him to take any decision on that.
There have been some apprehension as regards the venue of the election.
The venue of the election is at the discretion of the Electoral Committee. We can only make our complaints. Murmuring is allowed. If the Electoral committee says they are going to Abuja for the election, so be it. But the excuse people are putting forward is that we should look at the security implication of moving multitudes of people to the venue, when the election will be conducted in Abuja. We look at the security risks, logistics involved, and many other things, and not even now that nowhere is safe in Nigeria. The Minister needs to look at their complaints. That is why he is the Minister, the father of all. I am sure that if he looks at it, he would weigh it and give us a final decision. The Electoral Committee has a final say on that and I know that there is nothing they want to do without consulting the Police.
Kindly like us on Facebook