Nigeria's Dr Paul Adalikwu has emerged as the new Secretary-General of the Maritime Organization of West and Central Africa (MOWCA).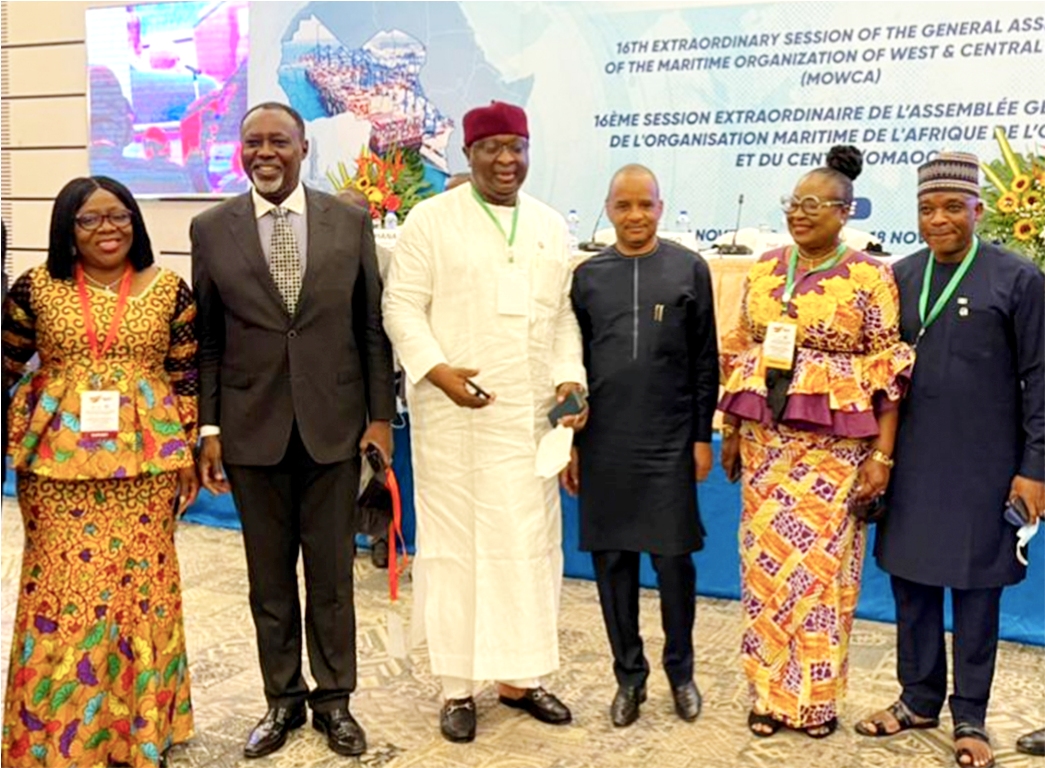 Mr Eric Ojiekwe, Director of Press and Public Relations, Ministry of Transportation, announced this in a statement on Thursday.
Adalikwu was unanimously elected during the Ordinary session of the General Assembly of MOWCA in Accra, Ghana to run the organisation's affairs for four years from its headquarters in Abidjan.
In his acceptance speech, Adalikwu appreciated the Minister of Transportation, Rotimi Amaechi for seeking the approval of the President Muhammadu Buhari, to make him Nigeria's candidate.
He appreciated the minister for the approval, for the post of Secretary-General of a Regional Organisation that controls maritime activities in 25 countries of the west and central Africa Sub Region.
He stated, "It is on record that this is the very first time in the life of the Organisation that Nigeria indicated interest to contest for the exulted position of Secretary-General of the body.
"By your enormous support and votes, you have this day placed on me the burden and challenge of properly placing MOWCA on the pedestal of executing the mandate of its founding fathers which is anchored on effective maritime trade and marine environmental protection among members of the sub-region, Africa and the world in general.
"I do acknowledge the role of maritime trade to global economy and I pledge that within my tenure as SG-MOWCA, the region will not just be a maritime trade highway, but will witness a revolutionary turn around in trading activities.
"There will be turnaround in marine health and security in the Gulf of Guinea (GoG) among member States leveraging on the Deep Blue maritime security infrastructure project championed by Nigeria.
"Africa is so highly endowed to have positive impact on trading activities within its maritime domain and I will work very assiduously to see that we take our proper place in the global maritime space.
"My warmest regards to H. E. Sen. Gbemisola Saraki, Minister of State, Transportation of Nigeria. She has doggedly championed the campaign activities in her capacity as the Chairperson of Nigeria's election Planning Committee.
" Senator Saraki indeed proved herself, the amazon, resolute and resilient, never giving up and never getting tired even when it appeared that the election was taking a nosedive.
"My sincere appreciations to my Permanent Secretary, the indefatigable Dr Magdalene Ajani for meticulously ensuring that things were done rightly and when the need to take a stand came, she did take a stand.
"He thanked Heads of Maritime Agencies of Nigeria, Ministry of Foreign Affairs, Maritime Stakeholders and members of the diplomatic corps of member states who all worked to ensure that we have this day.
"May I most sincerely thank the Chairman for rising up to salvage the image of the Organisation. My sincere commendations go to the out-going Secretary-General who I will most times call upon for expert advice in the course of discharging my duties.
"Finally, by your votes, you have entered a contract with me and I pledge to keep the terms and work for the revival of MOWCA. I will not fail you."
The Minister of State for Transportation, who led the Nigerian delegation, encouraged countries present to vote and have faith in Nigeria and emphasised on the need for a strong leadership with competence and focus.
Saraki said, "What we expect is complete re-engineering of the Maritime domain within West and the Central Africa.
"What COVID-19 did was that, it showed everybody that at the end of the day, we will have your own backing at your own home, so we really need to strengthen that.
"We really need to compete internationally on the world stage. We should not limit ourselves.
"Do you know that one of us had to fly from Congo to Paris first before you could get a flight to Ghana? We need more interconnectivity within ourselves and that can only happen by strong unions and associations," she added.
The process for the MOWCA election which began at the 15th General Assembly in Kinshasa, Democratic Republic of Congo in July got stalemated after Nigeria, Benin Republic and Guinea presented candidates for the office.
MOWCA was established in May 1975 as the Ministerial Conference of West and Central African States on Maritime Transport (MINCONMAR), also called Charter of Abidjan
The name was changed to MOWCA as part of reforms adopted by the General Assembly of Ministers of Transport, at an extraordinary session of the Organisation held in Abidjan the Republic of Cote d'Ivoire from 4-6 August 1999.
Objective of MOWCA include to serve the regional and international community for handling all maritime matters that are regional in character; cost effective shipping, pollution free marine environment and promoting safety and security in the region's maritime domain
MOWCA unifies 25 countries on the West and Central African shipping range (inclusive of five landlocked countries). These countries comprise of 20 coastal states bordering the North and South Atlantic Ocean with 5 landlocked countries.
Kindly like us on Facebook