Operators of barges and boats at Agenebode, Etsako East Local Government Area of Edo are currently smiling to the bank taking advantage of the dilapidated state of the Enugu-Onitsha Highway.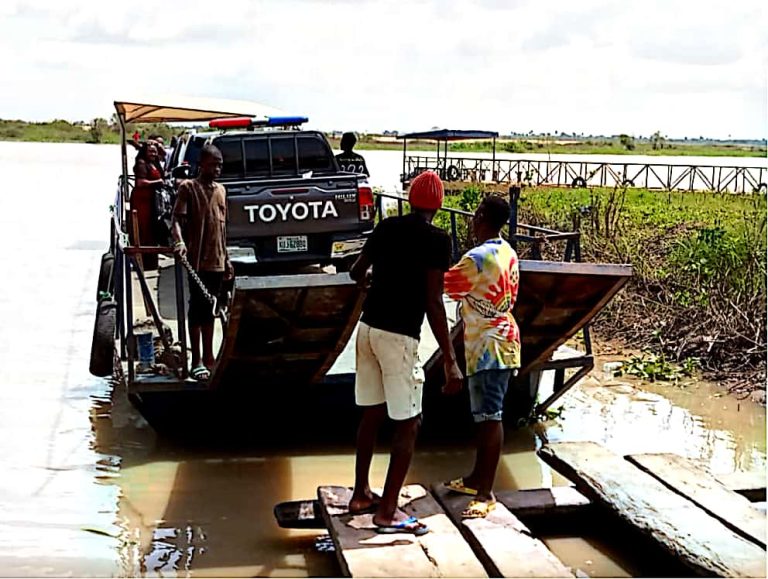 Many travellers going to various parts of the north from the south now ferry their vehicles on barges on the River Niger to cross to good roads.
Some of the barge operators, said on Tuesday that the poor state of the Auchi-Okene Highway also meant higher patronage of their services.
They said motorists from the Eastern part of the country now go through Idah in Kogi on the river to connect states in the northern parts and Abuja, a faster route when compared with the Enugu-Onitsha road route, for instance.
According to them, Idah to Otukpo in Benue takes three hours using barges instead of a whole day's journey travelling from through the Enugu-Onitsha Road.
An operator, Morgan Lawani, said he used to ferry 10 vehicles daily, but now ferried between 20 and 30 vehicles daily.
According to Lawani, the price of ferrying a vehicle from Agenebode to Idah through the River Niger is N8,000.
"The price is lesser when we ferry three vehicles at a time. We charge N6,000 each for carrying three vehicles together, while we charge N8,000 per vehicle if we carry two.
"In fact, we were really surprised at the sudden surge in our business until our enquiries confirmed the reason to be the bad road between Awka and Enugu,'' he said.
Another operator, Kamarudeem Oshiobugie, said the boom in business was a blessing to barge operators.
Oshiobugie said more commercial transporters now patronised the barge operators.
"This is coming to us as a blessing because we never had it this good before. It is only during Yuletide when the roads are clogged that we experience large patronage.
"Now private and commercial vehicles travelling from Benin and other parts of Edo to Abuja or Benue now go through Agenebode. Same applies to those travelling from the Eastern parts,'' he said.
Wilson Ado, another operator, noted that commuters now preferred taking the ferry to Idah from where they could connect to their destinations in the northern parts of the country.
"We charge commuters N700 per trip and the journey from Agenebode to Idah through the River Niger is about 40 minutes.
"Perhaps, you need to travel from Auchi to Okene by road to understand what I am talking about.
"Even the Igarra-Ibillo route that became an alternative is in a terrible state now,'' he said.
The barge operators said, however, that they had to cope with extortion by security operatives on the waterways.
A commuter and journalist, Mr Patrick Ochoga, who recently used the barge, said it was indeed a different experience.
Ochoga noted that he usually spent a whole day travelling from Benin to Otukpo, Benue, but that when he used the Agenebode-Idah waterway link, he spent only eight hours.
"I was amazed with not only how fast it took to get to Otukpo, but also with the number of Very Important Personalities I saw at the bank of River Niger waiting to use the same barge to ferry their vehicles, including their security vehicles.
"It took me just 40 minutes to get to Idah from Agenebode and the journey from Idah to Otukpo was seamless because of the good road.
"The uneasy ride I used to experience using the Enugu route was not there at all,'' he stressed.
Kindly like us on Facebook