Carriers having learned the lesson from the Yantian Port closure this summer have reacted quickly to the news of the Ningbo Port closure. Since 11 August, the Meishan Island container terminal of the Ningbo Zhoushan port complex has been closed due to reported covid-19 cases among port employees. With uncertainty looming over the port operation and a foul experience from Yantian Port congestion, many carriers have opted to ship Ningbo for the time being.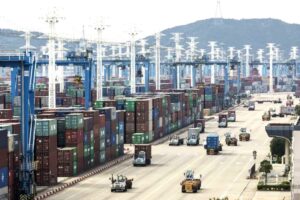 The last such outbreak had led to the closure of Yantian Port for 4 weeks but it was the sheer enormity of the Ningbo-Zhoushan port that a total port lockdown was avoided. Ningbo-Zhoushan port is the world's largest port in terms of tonnage and the Meishan Island accounts for 20% of the 30 million TEU through-pass of the port annually. Total there are 41 container services calling Meishan out of which 8 are for North America and 6 for Europe. This closure of the Meishan terminal will be mainly impacting the Ocean Alliance, a group comprising COSCO, CMA CGM, OOCL, and Evergreen.
Industry giants such as Hapag Lloyd have issued letters to clients stating that delay is expected due to this sudden suspension. In an update shared by CMA CGM on 12 August, the company has said that two vessels already berthed at the terminal had operations suspended whereas the company has decided to divert two-vessel to Shanghai.
Maersk has said that it is monitoring the situation and assured its customers that vessels operating in 2M Alliance usually call at Beilun Phase 4 terminal, which is currently open. Maersk has said that yard density for loaded containers is already 80% and they expect gate operations to be reduced to 2-3 days depending upon the backlog at the terminal.
Kindly like us on Facebook