Chevron Nigeria Limited on Wednesday confirmed relocation of its base for logistics support activities from Onne Shore in Rivers to Warri and Escravos in Delta.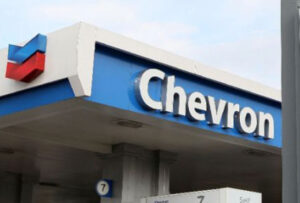 Chevron's General Manager, Policy Government and Public Affairs, Mr Esimaje Brikinn, made the confirmation in an interview in Lagos.
According to Brikinn, the migration of Chevron's shore base from Onne to Escravos and Warri is to enable the oil gaint to consolidate its base operations and reduce its operational footprints.
"This will help in reducing Chevron's operating cost and increasing efficiency for business sustainability.
"Chevron will continue to conduct its operations reliably and efficiently, while working with the Federal and State Governments towards the development of the oil and gas industry and the Nigerian economy," he said.
Recall that Ogu Youth Congress on Tuesday threatened to paralyse operations at Onne Port of oil giant, if it proceeded with plans to move its logistics base out of the Onne Oil & Gas Free Zone.
Comrade Taripakaye Gbobbo, President of the congress in a statement said the planned relocation of the base from the Onne Oil & Gas Free Zone would lead to severe economic hardship for the host community.
"The operation of Chevron in our community has helped us a lot because our people are being employed and earning salaries.
"If Chevron leaves this facility now, it will bring back hunger and increase poverty in the community.
"We are opposed to Chevron leaving this facility and besides, our place is peaceful now. There is no crisis, no militancy; so they cannot say they are leaving because of insecurity.
"I will write a letter to the Nigerian Ports Authority via the Port Manager, informing them that if Chevron wants to leave this facility, we will not allow them to leave," he said.
According to him, the group favours dialogue and constructive engagement and will not fold its arms and allow economic hardship to be foisted on "hapless families" as a result of the planned relocation.
shippingposition
Kindly like us on Facebook/twitter